Southern Miss Hosting Adams Foundation Piano Recital Series in 2013
Mon, 01/28/2013 - 12:15pm | By: Mike Lopinto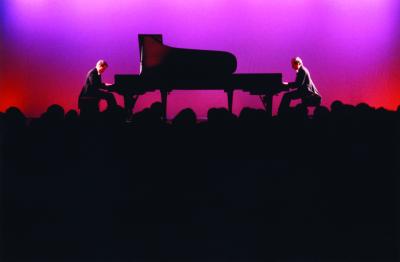 A joint team effort by pianist Elizabeth Moak, University of Southern Mississippi School of Music Director Michael Miles and FestivalSouth's Jay Dean is bringing high quality piano performances to Hattiesburg.
Most importantly with the generous support of the Adams Foundation, founded by music lover and philanthropist Stephen Adams of Santa Barbara, Calif., the School of Music's Connoisseurs Series and FestivalSouth will host the second Adams Foundation Piano Recital Series in Hattiesburg during 2013.
The Adams Foundation features an exclusive roster of pianists including the duo team of American identical twins Richard and John Contiguglia who will perform a free concert at Southern Miss on Sunday, Feb. 3 at 2 p.m. in Marsh Auditorium.
"We are very excited about the upcoming season of the Adams Foundation Piano Recital Series," said Moak, who also serves as associate professor of piano. The Contiguglia Duo will be performing as part of the Connoisseurs Series at Southern Miss. Richard and John Contiguglia are among the most acclaimed and versatile piano-duos in the world today.
The Adams Foundation Piano Recital Series was inaugurated at Southern Miss in February 2010 with an All-Chopin/Schumann concert by Ann Schein, student of Arthur Rubenstein, to celebrate the Bicentennial of the two composers. Moak was fortunate to study with Schein at Peabody Conservatory in Baltimore and in Scarsdale, N.Y.
It was through Schein that Moak first heard about the Adams Foundation, whose goal is to present piano recitals in intimate chamber settings to communities throughout the United States, and to share the piano literature's incomparable music. The series has already sponsored approximately 103 recitals in 25 communities in 19 states.
The London Daily Telegraph described the Contiguglia Duo in their 1962 London debut as setting "a new standard for this intimate form of music-making."Their CD of the "Liszt Operatic Fantasies for Two Pianos" recently won a Grand Prix from the Hungarian Liszt Society of Budapest.
The Hattiesburg concert will feature the pianists in a Liszt/Beethoven work, Liszt's "Grand Concert Fantasy on Bellini's La Sonnambula" (from their award-winning CD), and the Schubert Fantasy in F Minor. The second half of the concert will be a special event as a team of percussionists (Jason Mathena and Bud Bertholdt playing seven instruments: timpani, xylophone, side drum, bass drum, cymbals, triangle and tam-tam) will pair up with the Contiguglia brothers to perform Bartok's exciting and colorful "Sonata for Two Pianos and Percussion."
Initially, Michael Mile's creation of the Connoisseurs Series was invaluable as a tie-in for the first Adams Foundation concert, giving it a good launching pad. But with the need to add a second Adams Foundation concert in order to meet the guidelines of their Foundation, Jay Dean's support of the series then became a crucial factor in allowing it to continue for a second year.
As a result, FestivalSouth will join in hosting this second Adams Foundation Piano Recital on June 13, featuring a solo piano recital by the fascinating Frederic Chiu. His awards include an Avery Fisher Career Grant and the Petscheck Award of the Juilliard School. He was also the "non-winner" of the 1993 Van Cliburn Competition, where his elimination from the finals caused an uproar in the press.
"It is my hope that our community will take advantage of the unique sponsorship of the Adams Foundation to hear these wonderful artists sharing great music," Moak said.