Southern Miss Picks Up Two Southern Public Relations Federation Awards
Tue, 12/10/2013 - 06:21pm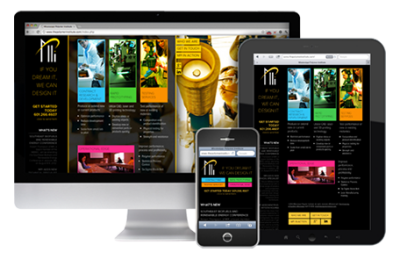 Screen shots of the MPI website show its presentation on desktop, tablet and phone.
The University of Southern Mississippi's Office of University Communications has been honored by the Southern Public Relations Federation (SPRF) with two awards, including one prestigious Lantern Award for its development of the Mississippi Polymer Institute (MPI) website, thepolymerinstitute.com.
The Lantern is the highest honor granted by SPRF for public relations excellence. The organization includes public relations practitioners from across Alabama, Louisiana, Mississippi and parts of Florida. Public relations and advertising agencies, corporations, universities and more compete in the Lantern award competition. In all, only 17 Lanterns were awarded in 2013.
The University Communications web team of Geoff LoCicero, Aaron Green and Lauren Smith were honored for their work on the MPI site, which features a greatly improved design and functionality and mobile-friendly templates. MPI serves as the industrial outreach arm of The University of Southern Mississippi and plays a key role in growing the state's multibillion-dollar-per-year, high-tech polymer industry.
"By all measures, the re-designed website exceeded my expectations as MPI's site traffic and customer inquiries have increased orders of magnitude since going live," said Bryan Brister, MPI Director. "The Lantern Award is a great honor and recognition of the creativity of USM's web team and MPI's marketing leader, Heather Leighow."
LoCicero, the University's Director of Web Services, said the MPI site was an opportunity for the team to gain experience with responsive web design, a design that reformats to the size of a device's browser, whether desktop, laptop, tablet or phone.
"Lauren and Aaron rose to the challenge, and it's pretty amazing that we would win such a prestigious award on our first attempt at using a responsive framework," LoCicero said. "The experience of this project will definitely help us as we work on the University's primary online presence, usm.edu."
The University was also honored with an Award of Excellence in the Crisis Communication category for its entry related to communications following a February tornado that struck the Hattiesburg area, including the institution's Hattiesburg campus. Miraculously, no lives were lost, but the tornado caused millions of dollars in damage to the campus, caused the cancellation of classes, and more.
In addition to hundreds of communications throughout the week of the tornado through social media, mass media, the University's website and other channels, the University Communications creative team worked over several months in support of the USM Foundation's campaign to restore the campus, which raised more than $2 million.
"The response of the University Communications' staff was tremendous leading up to, during, and following the storm," said Jim Coll, Chief Communication Officer. "Along with many others, they literally worked around the clock to make sure the needs of the University community were met; that new University President Rodney Bennett's significant leadership qualities were recognized; and the University's resiliency and determination once again emerged in a difficult situation."