Southern Miss Researchers Capture Awards at Cosmetics Conference
Tue, 12/17/2013 - 10:45am | By: Van Arnold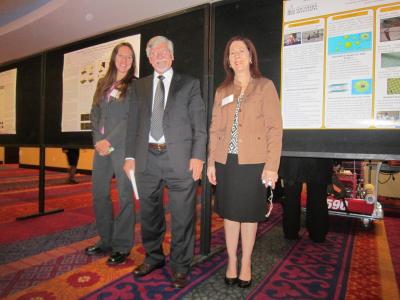 From left to right: Dr. Heather Pearson, Dr. Robert Lochhead and Dr. Giselle Marks. (Submitted photo)
Dr. Heather Pearson and Dr. Giselle Marks, both graduates of The University of Southern Mississippi doctoral program, took home significant awards from the New York Cosmetic Technology Transfer Conference held last month in Iselin, N.J.
Pearson captured first place for Best New Technology for her presentation titled, "The phage-bacterium war on polymeric surfaces: can surface-anchored bacteriophages eliminate microbial infections?" Pearson is a 2013 doctoral graduate from the School of Polymers and High Performance Materials at Southern Miss.
"After hearing the names of the third and then the second-place winners, I was not very hopeful that I would win," she said. "Then when they called my name for the first-place prize, I was very surprised and happy. There was some pretty stiff competition."
Marks, a 2006 doctoral graduate from the Department of Chemistry and Biochemistry at Southern Miss, collected a third-place award for her paper describing new spontaneous emulsifiers based on soy bean lecithin and a phosphate ester.
"I was pleasantly surprised by the third-place award, as I was aware that we were competing against a contingent of local researchers with some very strong research projects," said Marks.
Pearson currently works as a Research/Teaching Fellow in the School of Polymers and High Performance Materials. Marks is an instructor in general chemistry and organic chemistry at Jones County Junior College. Both are conducting research under the mentorship of Dr. Robert Lochhead, a professor in the School of Polymers and High Performance Materials at Southern Miss.
The Cosmetic Technology Transfer Conference brings together leaders in technology transfer with the cosmetic industry. The conference comprises four lectures from invited experts and a technology showcase of new technologies with potential applications in personal care or pharmaceuticals. Lochhead served as one of the guest lecturers.