Southern Miss Student-Athletes Participate in Career Workshops
Thu, 10/17/2013 - 09:52am | By: Jack Duggan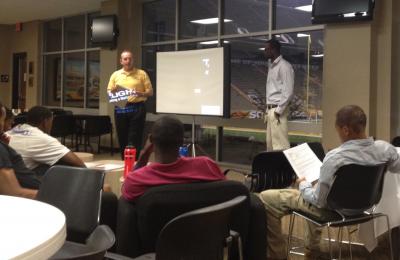 Southern Miss Director of Career Services Rusty Anderson (left), and former Golden Eagle track and field student-athlete Leonard McLeggon address the crowd. (Submitted photo)
On Monday, Oct. 14, a select group of 17 Southern Miss junior and senior student-athletes participated in the first of four career-development workshops at the Duff Athletic Center, all of which will feature a former Southern Miss student-athlete.
This event was hosted by Rusty Anderson, Southern Miss Director of Career Services, with an assist from former Southern Miss track and field athlete Leonard McLeggon.
The aim of this program is to help this collection of athletes, who either volunteered or were nominated to participate by academic counselors, prepare for their transition into the professional world or graduate school.
"The goal is to let these student-athletes know that the skills they are currently developing as athletes are transferable," said Dan Jacobs, academic counselor and life skills coordinator with the Southern Miss Student Academic Enhancement Program. "While most are probably aware that they are developing some skills – teamwork, achieving goals, effort – we hope to open their eyes to the fact that these skills are marketable and, if you properly articulate these skills, you will have a better chance of selling yourself to a potential employer."
In this installment, the hosts covered topics ranging from job searches to internship opportunities to the realities of graduate school. Future installments, one in the fall semester and two in the spring, will build upon these concepts.
"The hope was to spread these workshops throughout the year so that the student-athletes are consistently thinking about these topics," Jacobs said. "In the fall, they need to be thinking about what their next step will be, will they be going to grad school or stepping into the professional world, and building their resumes and planning accordingly.
"By the spring, they should have made some connections and be sending out resumes and applications and preparing for interviews. Trying to get all this information into one workshop probably wouldn't work, it would go in one ear and out the other. With this series of workshops we believe the student-athletes will be more likely to consistently think about the next phase of their lives."
McLeggon, currently serving as manager of a local chain restaurant, discussed the importance of articulating the skills developed as a student-athlete and how to relay this information to prospective employers.
The role of these athletics alumni is important, Jacobs said.
"Most of these athletes have only been out of school for two or three years," Jacobs said. "We felt that our current student-athletes could relate to these professionals, who were in a similar position only a few years ago."
Future workshops include an Oct. 28 event centered on resume development as well as two Spring 2014 meetings in which interview skills will be addressed and mock interviews staged.