Southern Miss Womens Basketball Team Visits Childrens Center
Thu, 10/10/2013 - 02:37pm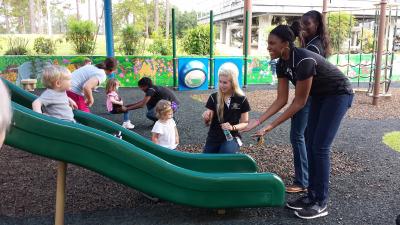 Members of the Southern Miss women's basketball team interact with clients at The Children's Center for Communication and Development during a visit on Sept. 25. (Submitted photo)
The University of Southern Mississippi women's basketball team recently broke away from its busy practice and academic schedules to do a little workout with the toddlers and preschoolers at The Children's Center for Communication and Development at the University of Southern Mississippi.
On Sept. 25, the Lady Eagles' players, coaches and staff took the children under their wings to dribble, swing, slide, run, ride, build, and even paint, during the third annual Lady Eagles visit to The Children's Center.
The interactive activities in The Children's Center's "Outdoor Adaptive Motor, Learning and Exploratory Center," or to the children, "the playground," present an opportunity for the Lady Eagles to better get to know the Center, its program and its children.
The Children's Center and the Lady Eagles have built a partnership that includes, in addition to the annual visit to the Center, the Lady Eagles joining "Team Children's Center" for the United Way of Southeast Mississippi's annual Corporate Challenge held at the Payne Center on Southern Miss' campus, and the Lady Eagles' featuring The Children's Center and its children and families at a home basketball games.
"This is a relationship built out of mutual respect for what both of our programs are doing for young people on Southern Miss' campus, whether they be young children with disabilities and university students getting pre-professional training, or young women athletes getting their college educations," said Sarah Case-Price, director of The Children's Center.
The Children's Center, a United Way agency, is a clinical education program within the Department of Speech and Hearing Sciences. For nearly 40 years The Children's Center has provided clinical education to university students and direct, early intervention services to children from birth through age five with complex disabilities.
To learn more about The Children's Center call 601-266-5222 or go to www.usm.edu/childrenscenter