Stur Awarded Prestigious Fulbright to Study in Vietnam
Thu, 02/28/2013 - 15:51pm | By: David Tisdale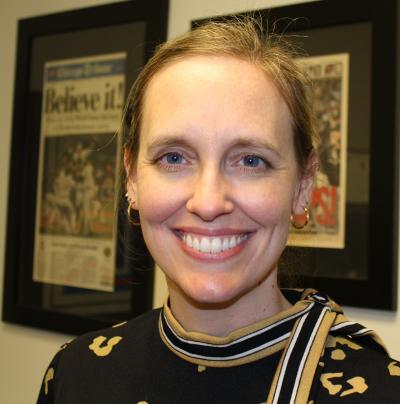 A University of Southern Mississippi history professor has earned a prestigious Fulbright Scholar award to study and teach in Vietnam, enhancing her research on the Southeast Asian nation's impact on U.S. foreign relations and culture.
Dr. Heather Stur, assistant professor of history and director of Southern Miss' study abroad program in Vietnam, will be affiliated with the University of Social Sciences and Humanities (USSH) in Saigon through the program. She bested a diverse group of applicants, including those from fields outside of academia, in securing the highly coveted award.
Her application was reviewed by the Fulbright Scholarship Board, which is appointed by the president, and officials with the U.S. State Department and in Vietnam.
"It's been a career goal for me to secure a Fulbright, so I'm thrilled to be chosen," Stur said. "For someone studying international relations, it's one of the most highly sought professional honors."
Stur will teach courses in U.S. foreign relations and work with the USSH faculty to develop a curriculum on American history, with emphasis on international relations. She will also immerse herself in local culture to improve her fluency in Vietnamese, which Stur says will expand her scholarship base as she researches in local archives and other material.
"This prestigious award for Dr. Stur indicates the quality of work of all our faculty in Arts and Letters, not only locally and regionally, but nationally and internationally," said Dr. Steve Moser, dean of the College of Arts and Letters.
Named for the late U.S. Sen. J. William Fulbright of Arkansas, the Fulbright program supports the mutual understanding between the American people and those of more than 150 countries that participate through educational and cultural endeavors.
"The history department is fortunate to have Dr. Stur as a member of its faculty," said Colin Colburn, a doctoral student in history from Elkhart, Ind. "Receiving a prestigious Fulbright is a major accomplishment, especially having just published her first book. She's an incredible mentor to both undergraduates and graduate students and a talented scholar and professor."
Stur joined the Southern Miss faculty in 2008. She holds a bachelor's degree from Marquette University and a Ph.D. from the University of Wisconsin - Madison. Her research expertise includes gender and war, U.S. foreign relations and post-1945 America.
She earned the College of Arts and Letters Junior Faculty Research Award and the first Nina Bell Suggs Endowed Professorship, both in 2012. Her first book, Beyond Combat: Women and Gender in the Vietnam War Era, published by Cambridge University Press in 2011, looks at how the social upheaval of the 1960s impacted U.S. foreign policy, while also inspiring a re-examination of the societal roles of males and females. Stur is currently working on books dealing with Americans' attitudes toward U.S. global interventions in the 20th century, and the impact of militarization on American gender and family structures.