Trombone Choir Premieres Alumnus' New Work in Tribute to the Community
Thu, 04/11/2013 - 14:51pm | By: Mike Lopinto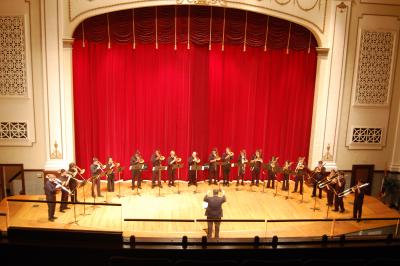 Southern Miss Trombone Choir. (Submitted photo)
Just over two months ago, the Hattiesburg area was devastated by a deadly F-4 tornado. The School of Music at Southern Miss faced considerable losses but experienced an overwhelming outpouring from the community and the world.
On Tuesday, April 16, the Southern Miss Trombone Choir will demonstrate the School of Music's appreciation with a free performance at Bennett Auditorium. The concert, set for 7:30 p.m., will feature a premiere work by alumnus Charles Ingram.
"I knew that I wanted to find some way to acknowledge this terrible event- but more than that- find a way to showcase the perseverance and strength of our city, campus and School of Music," said choir director Dr. Ben McIlwain. "I approached Charles within a week of the tornado about possibly writing a piece for our April 16th concert and International Trombone Festival performance in June. He was more than willing and very generous. "
The resulting compositon,"Out of Darkness," contains a quote from Psalm 30:5 "Weeping may endure for a night, but joy comes in the morning..."
"It is my attempt to depict the quiet inner strength that has been shown and will be shown by the USM community in recovering from the devastation of the tornado," said Ingram.
Ingram, a Gulfport, Miss., native, won first place in the statewide composition contest sponsored by the Mississippi Arts Council and The University of Southern Mississippi in 1968. One year later he entered Southern Miss and graduated with a bachelor's degree in Theory-Composition in 1973.
In 1975 he completed the Master of Music degree in choral music at the University of Southern California. He began teaching at Los Angeles Southwest College in 1976.
In 1985, he returned to USM for doctoral studies in composition with Luigi Zaninelli. He has composed for chorus, orchestra, wind ensemble, solo voice and various chamber ensembles. He retired from Los Angeles Southwest College in 2008 and now lives in Covington, Ga.
Ingram has had his compositions performed all over the United States and in Europe. Several of his compositions have been composed for USM faculty members. His song cycle, 'Six Songs for Kimberley' and 'Songsof Solomon' was written for Dr. Kimberley Davis. The 'Heidian Waltzes' and 'Reflection and Jubilation' was written for Dr. Heidi Lucas; 'Trifles' and 'Sonatinafor Tuba andPiano" for Dr. Richard Perry; "Bonbons for Horn, Tuba and Piano" for the Isosceles Trio; "Excursions for Trumpet and Piano" for Dr. Daniel Kelly and "Sonatina for Trombone and Piano" for McIlwain.
"Premiering new music is always a great opportunity for the students to work with the composer," said McIlwain. "There are strong programmatic elements to this work and the students have been able to latch on to those elements easily as all of us were directly impacted by the tornado on one level or another."