Zelner Leading Southern Miss Department of History
Fri, 08/30/2013 - 16:19pm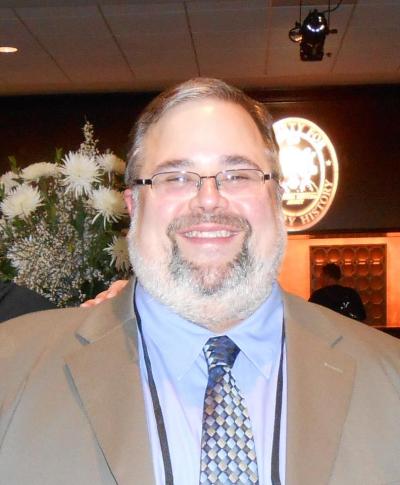 Dr. Kyle Zelner, an associate professor of history and senior fellow in the Center for the Study of War & Society at The University of Southern Mississippi, is serving as chairman of its Department of History. He began his duties in this role July 1.
Zelner joined the university's faculty in August 2004 after completing his doctorate at William & Mary. He served as the department's director of undergraduate studies from 2005 to 2010 and graduate studies from 2010-2013. He became an associate professor in 2009 and was tenured in 2010.
A historian of colonial and revolutionary America and early American war and society, Zelner's specific area of expertise is colonial New England, especially the social history of the region, and his research focuses on soldiers and communities. In addition, he teaches historical methods and writing.
"I'm excited to serve as chair of one of the most accomplished departments on campus," Zelner said. "The department has two jobs: to produce innovative and significant historical research and to teach students historical content and important life skills such as critical thinking, the use of evidence to make clear arguments and well-crafted persuasive writing.
"I see it as my mission to ensure that the department's faculty and students have all of the information, resources and support they need to succeed in those essential objectives."
At Southern Miss, he has been recognized for his work with the Research Mentor Award from the University's Honors College (2013); the College of Arts and Letters' Faculty Service Award (2013); the Center for the Study of War & Society's Meritorious Service Award; and the University's Excellence in University Teaching Award for 2010-2011. In 2011, he was elected as a Lifetime Member of the Colonial Society of Massachusetts, the only person in Mississippi to hold the distinction.
His publications include A Rabble in Arms: Massachusetts Towns and Militiamen during King Philip's War (The Warfare and Culture Series), published by New York University Press; and "The Importance of Early American Military History" in Footnotes: The Newsletter of the FPRI's (Foreign Policy Research Institute) Wachman Center for International Education (August 2008).
Zelner has presented "A Rabble in Arms: Massachusetts Towns and Militiamen during King Philip's War" for the Perspectives in Military History Lecture Series at the Army War College's Army Heritage and Education Center, Carlisle, Pennsylvania, May 18, 2011. http://www.carlisle.army.mil/AHEC/mediagallery/videogallery.cfm?id=32 ; and "Early American Military History and the American Revolution" at the Foreign Policy Research Center forum on "What Students Need to Know about America's Wars, Part I: 1622–1919: A History Institute for Teachers."
For information about the Southern Miss Department of History, including its degree programs and research, visit www.usm.edu/history.