Bryant-Claxton Named Executive Director of IDS at Southern Miss
Thu, 10/09/2014 - 10:07am | By: Alma Ellis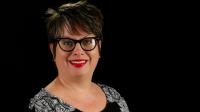 Dr. Beth Bryant-Claxton
Dr. Beth Bryant-Claxton brings a wealth of experience as a clinical psychologist and administrator into her new role as executive director of The University of Southern Mississippi Institute for Disability Studies.
A trained professional dedicated to working with individuals with intellectual and developmental disabilities and their families, Bryant-Claxton joined the Institute for Disabilities Studies (IDS), Mississippi's University Center for Excellence in Research, Education and Service (UCEDD), on Oct. 6.
"We are delighted to have Dr. Bryant-Claxton join us here at Southern Miss as executive director of the Institute for Disability Studies. Her past experiences uniquely place her in a position to lead the unit into the future," said Dr. Gordon Cannon, vice president for research.
Bryant-Claxton most recently served as the clinical director for Arkansas START (Systemic, Therapeutic Assessment, Resources and Treatment), a crisis prevention and intervention program for individuals with intellectual and developmental disabilities and complex behavioral health needs.
"I couldn't be more excited to be joining IDS at Southern Miss," she said. "With the cooperation of our dedicated, talented staff, I will strive to sustain and enhance the excellent programs that are already established to provide information, education, and services for individuals with disabilities and their families. We are also poised for growth, ready to develop and maintain new, productive and satisfying collaborative relationships within the Institute and its stakeholders, the University faculty and students, with other UCEDDs and the national Association of University Centers on Disabilities network."
Bryant-Claxton previously served as the director of the Positive Behavior Support Training Project at Partners for Inclusive Communities, Arkansas' UCEDD and an Arkansas-licensed clinical psychologist, providing the statewide training and certification for positive behavior support specialists and developing PBS plans for United Cerebral Palsy of Arkansas.
Bryant-Claxton received her doctoral degree in clinical psychology from the University of Florida. She completed pre-doctoral and postdoctoral fellowships at the A.I. DuPont Hospital for Children in Wilmington, Del., and a postdoctoral LEND (Leadership Education in Neurodevelopmental Disabilities) fellowship at the Westchester Institute for Human Development, also a UCEDD, where she served as faculty at the New York Medical College.
IDS has been located at Southern Miss for more than 30 years and has satellite offices in Jackson and on the Southern Miss Gulf Park campus in Long Beach, providing pre-service training, community services and technical assistance programs for individuals with disabilities of all ages and their families. IDS' areas of emphasis include education and early intervention, housing, health, recreation and assistive technology. For more information about IDS, visit www.usm.edu/disability-studies.