First Female U.S. Reporter Killed Covering War Focus of Oct. 6 McCarthy Lecture
Fri, 10/03/2014 - 15:36pm | By: David Tisdale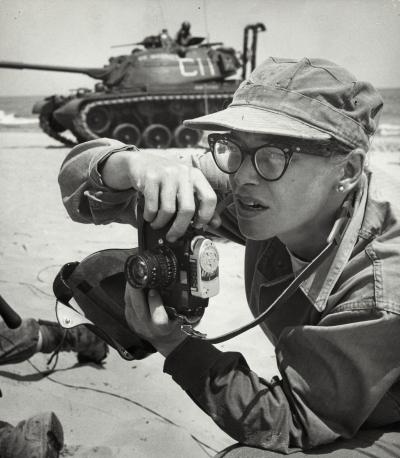 Dickey Chapelle, the first female reporter killed in combat. (nojobforawoman.com)
The final presentation in the 10th annual Richard McCarthy Lecture Series at The University of Southern Mississippi will spotlight Dickey Chapelle, the first female war correspondent killed in combat.
The lecture, titled "What's a Woman Doing Here? Dickey Chapelle, War Correspondent" will be given by associate professor of history Dr. Heather Stur Monday, Oct. 6 at 6 p.m. in room 101 of the Liberal Arts Building on the Hattiesburg campus. Chapelle, who covered World War II and the Korean War, died in 1965 while on assignment reporting on U.S. military operations in Vietnam.
The theme for this year's series is "Embedded: War and the Fourth Estate" and is presented by the Southern Miss Department of History's Dale Center for the Study of War and Society.
The Richard McCarthy Lecture Series was founded in 2006 through the support of Dr. Richard McCarthy and Dr. Craig Howard, and is designed to bring together students, faculty, and community members to access cutting edge research in the field of War and Society. For more information about the series, contact Dr. Stur at heather.sturFREEMississippi or 601.266.4779. For information about the Dale Center, visit http://www.usm.edu/war-society.