Gates to Elaborate on Best-Selling Memoir as 2014 Dale Distinguished Lecturer
Mon, 01/27/2014 - 10:04am | By: Van Arnold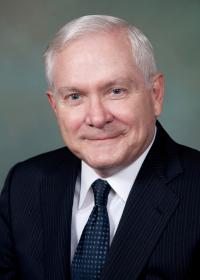 Robert Gates
Since its release, "Duty: Memoirs of a Secretary at War," the autobiography of former U.S. Secretary of Defense and Director of the Central Intelligence Agency Dr. Robert M. Gates, has been both a best-seller and the topic of intense conversations across the country. On Thursday, Feb. 6, the book will also be the focal point of Gates's presentation at the Saenger Theater in downtown Hattiesburg.
Gates will be the featured speaker for The University of Southern Mississippi's Lt. Col. John H. Dale Sr. Distinguished Lecture Series in International Security and Global Policy, a program of the Southern Miss Center for the Study of War and Society (CSW&S).
The lecture, set to begin at 7 p.m., is free and open to the public. The Saenger Theater has a seating capacity of approximately 1,000, and those planning to attend are encouraged to arrive early to ensure a seat inside the venue. Doors will open at 5:45 p.m.
In the highly publicized and much-discussed book, Gates covers his decades of service to the country and provides a behind-the-scenes glimpse inside the war-room deliberations of Presidents George W. Bush and Barack Obama and delivers candid assessments of each man's temperament, intellect and management style.
Gates served as the 22nd Secretary of Defense from 2006 to 2011, a period of time that spanned the presidencies of both Presidents George W. Bush and Obama. Prior to that appointment, he served nearly 27 years in the CIA and the National Security Council. On Gates's last day in office, President Obama awarded him the Presidential Medal of Freedom—the country's highest civilian honor.
"The Dale Lecture Series is a superb example of Southern Miss's dedication to providing the lessons in leadership that our students need to successfully meet today's global challenges," said series coordinator Dr. Susannah J. Ural, co-director of the CSW&S and the Blount Professor of Military History at Southern Miss. "Robert Gates's vast knowledge and recognized ability to inspire audiences to critically consider their place in an ever-changing world makes him an ideal speaker for our lecture series."
A trolley service will be available from campus to the Saenger Theater and back for Southern Miss faculty, staff and students. Any Southern Miss faculty, staff or students who need handicap accessible transportation (not available on the trolleys), should contact Ural at 601.266.5004.
For more information about the Dale Lecture Series, visit: http://www.usm.edu/war-society/lt-col-john-h-dale-sr-distinguished-lecture-series-international-security-and-global.
About Robert Gates
On Dec. 18, 2006, Dr. Robert Gates was sworn in as the 22nd Secretary of Defense. Two years later, he was asked by President Barack Obama to remain in that position, making Gates the only man to serve as Secretary of Defense for two presidents from different parties. Gates has dedicated more than 30 years to government service, starting as an entry-level analyst in the Central Intelligence Agency and rising to the Directorship of the Agency from 1991 to 1993, a career trajectory unmatched in CIA history. He served as Deputy Director of Central Intelligence from 1986 until 1989 and as Assistant to the President and Deputy National Security Adviser at the White House from January 20, 1989, until November 6, 1991, for President George H.W. Bush. In 1967 he was commissioned a second lieutenant in the U.S. Air Force and served as an intelligence officer at Whiteman Air Force Base in Missouri. He is the author of the book: From the Shadows: The Ultimate Insiders Story of Five Presidents and How They Won the Cold War published in 1996. Gates's latest book, Duty: Memoirs of a Secretary at War, was released in January 2014. The book is a straightforward, vividly written account of his experience serving Presidents George W. Bush and Barack Obama during the wars in Iraq and Afghanistan.