GCRL Receives Conservation Award from International Federation of Fly Fishers
Thu, 10/02/2014 - 10:37am | By: Martha Brown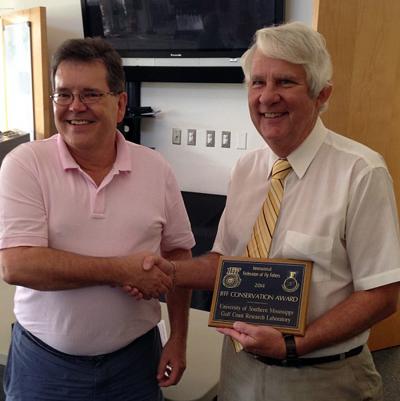 GCRL Director Eric Powell, right, accepts a conservation award from The International Federation of Fly Fishers. (Submitted photo)
The International Federation of Fly Fishers (IFFF) recently presented The University of Southern Mississippi's Gulf Coast Research Laboratory (GCRL) with its Conservation Award. The award is given annually to "individuals, groups or organizations that have made extraordinary contributions to the conservation of our fisheries' resources".
As noted in the nomination form by Kyle Moppert, president, Gulf Coast Council, IFFF, "the GCRL is more than deserving of recognition by the Federation for their 40-plus years of diligently working to restore striped bass along the Gulf Coast and their contributions to basic science and knowledge of striped bass everywhere. Their marine aquaculture program is devoted to developing technologies for environmentally sustainable approaches to marine aquaculture and marine stock enhancement, including cobia, shrimp, red snapper, spotted sea trout and specifically their Striped Bass Restoration Program, which is of reference for this award. For their decades of service to all who believe that native fish should swim freely in the waters of our streams, rivers and marine environments, and to all who benefit from an improved natural environment, the GCRL deserves recognition with this award."
Once common to coastal rivers and estuaries of the northern Gulf of Mexico, striped bass declined and nearly vanished in the 1960s. GCRL began turning that decline around in 1967 with a program focused on restoring striped bass (Morone saxatilis) in coastal waters along the Mississippi coast.
For more than 30 years, GCRL project personnel have annually released 100,000 or more juvenile stripers into Mississippi coastal rivers in early summer. Another 20,000 of the two-inch fish were then placed them into the empty tanks where they grew to about six inches before being tagged and released in the fall. GCRL's striped bass restoration project was supervised by Larry Nicholson.
"It is an understatement to say that I am honored by this recognition," said Nicholson. "I have thoroughly enjoyed my four-plus decades of working to restore striped bass to the coastal tributaries of Mississippi. Although we didn't succeed in creating a self-sustaining population, we did succeed in creating a recreational fishery that has made hundreds of anglers happy, and I have had the great pleasure of hearing numerous fishing-stories recounting their landing trophy size stripers. This award is like the icing on a great big cake."
F.J. Eicke, Coastal Conservation Association, notes in a letter of support for GCRL: "Dr. Nicholson has been the exemplar of this program from the start, has shared his knowledge and excitement with the recreational angling public, and in the process mentored a number of graduate students who have gone on to careers in marine science. When literally destroyed by Hurricane Katrina, and nearing the end to his academic/research career, Dr. Nicholson persevered and the program was regenerated and prospered. He remains active to this date, proving that 'Old Salts' do not go away but live on."
In another letter of support for GCRL, Jeff Deuschle, president of the Historic Ocean Springs Saltwater Fly Fishing Club says: "I would like to try to impart the deep sense of conservation that pervades not only their striped bass program, but most everything that they do. It is their involvement and outreach to the community which transforms what might be sterile and esoteric science into usable and actionable participation on the part of the public".
Along with the award presented to the GCRL's striped bass program, the IFFF also recognized Jim Franks, GCRL's senior research scientist with the Center for Fisheries Research and Development. Jim was presented with the Tarpon Fly Plate as a token of appreciation and commitment from the Gulf Coast Council (GCC)-IFFF.
The GCC, officers and board hopes this serves as a visible reminder of the bond, which establishes the GCRL as their primary conservation partner. To this end, the GCC donated 50 percent of the profits from the 2014 Fly Fair to the GCRL. This donation will be utilized to help fund marine education programming at the Marine Education Center.
The IFFF is a 46-year-old international non-profit organization dedicated to the betterment of the sport of fly-fishing through conservation, restoration and education. The Federation of Fly Fishers and its councils is the only organized advocate for fly fishers on a regional, national and international level.
Today the FFF has grown to 16 councils, approximately 225 clubs and 13,000 individual members. Its goal is to support fisheries conservation and educational programs for all fish and all waters. Anywhere fly fishers have an interest; the FFF can and does play a role. The motto of the IFFF is: Conserving, Restoring, Educating through Fly Fishing …aka "We are haunted by waters, so we chose to make a difference for the fish that live in them."