History Professors Book Includes Personal Accounts of Impact of Civil War
Thu, 01/09/2014 - 12:12pm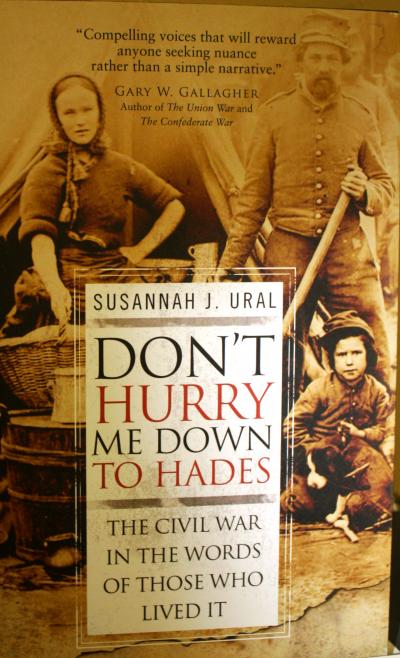 University of Southern Mississippi associate professor of history Susannah Ural's latest book captures the challenges and horrors of the Civil War through the voices of the families directly impacted by the conflict that shattered a nation.
Don't Hurry Me Down To Hades: The Civil War in The Words of Those Who Lived It is an account of the war in the words of the famous and ordinary from both sides of the Mason Dixon Line. Culled from rare letters and diaries, it offers diverse viewpoints from the battlefields, home fronts, presidential councils and frontier revivals, among others. It was listed by the Kansas City Star among its top 100 must reads of 2013.
Among those are a firsthand account of Abraham Lincoln's assassination by Major Henry Rathbone and his fiancée (and stepsister) Clara Harris, while Lewis Powell's attempt on Secretary of State William Seward's life is shared through the terrified eyes of his daughter Fanny Seward, who was seated next to her father during the ordeal.
Readers also learn how two Texas families suffered the absence of their father who left to join fellow soldiers on the battlefield, and how it was explained to his children that he had "gone to war" with "Santaclause." Another story introduces a runaway slave from Kentucky who won freedom for him and his family by joining the Union Army, only to again face the brutal prejudice he thought he had left behind.
Ural believes Don't Hurry Me Down To Hades offers a fresh viewpoint on the war between the states, presenting "a history of the war told chronologically that focuses on the common suffering, the shared sacrifice that Americans North and South made determinedly, begrudgingly, sadly, nobly, selflessly and selfishly."
A resident of the Petal, Miss. area, Ural serves as co-director of the university's Center for the Study of War and Society and holds the General Buford "Buff" Blount Professorship in Military History. She is currently working on her next book, Hood's Boys: John Bell Hood's Texas Brigade and the American Civil War.
Learn more about Don't Hurry Me Down To Hades, including how to order, from Osprey Publishing at http://www.ospreypublishing.com/store/Don't-Hurry-Me-Down-to-Hades--The-Civil-War-in-the-Words-of-Those-Who-Lived-It_9781849085908
For information about the Southern Miss Department of History, visit www.usm.edu/history. For information about the Center for the Study of War and Society, visit http://www.usm.edu/history/war-society.