Luckyday Foundation Renews Support for Scholarship Program at Southern Miss
Thu, 05/01/2014 - 08:05am | By: Amy Martin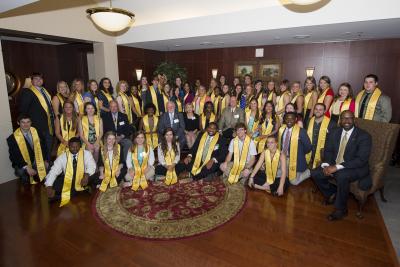 Members of the Luckyday Foundation Board of Directors paid a visit to graduating Luckyday Scholars at a reception held on April 28. (Submitted photo)
Since 2001, the Luckyday Citizenship Scholars Program has impacted the lives of more than 1,400 students at The University of Southern Mississippi through the gift of scholarship, service, leadership and community engagement.
In April 2014, the Luckyday Foundation renewed funding for the program at Southern Miss for another four years with a gift commitment of $6.9 million to The University of Southern Mississippi Foundation. This gift will provide 75 incoming freshmen with $5,000-per-year scholarships, which are renewable for three years after the students' freshman year, provided they continue to meet eligibility requirements.
Since its initial gift in 2001, the Luckyday Foundation has generously provided nearly $27 million in gifts and commitments to the USM Foundation, making the Luckyday Foundation the University's most generous benefactor.
Founded by the late Frank Rogers Day, the Luckyday Foundation funds scholarships for Mississippi high school seniors who are exemplary students with outstanding leadership skills and a commitment to their community.
Since welcoming its inaugural class in 2002, the Luckyday Citizenship Scholars Program at Southern Miss has grown into a thriving group of student leaders who graduate and go on to a diverse range of professions, including doctors, international volunteers and ministry leaders.
The Luckyday Citizenship Scholars Program has been recognized by state, national and international organizations as a best practice in student development, and for its efficiency and impact as a scholarship provider. Luckyday Citizenship Program staff members and University faculty affiliated with the initiative are invited to present several times a year at national conferences on innovative programming, student engagement and student success.
"The Luckyday Foundation has invested in The University of Southern Mississippi for more than a decade. As a result, Southern Miss has been able to shape a life-changing program that is truly unique in all of higher education," said Dr. Larry Sparkman, director of the Luckyday Citizenship Scholars Program. "Our students find a program specifically tailored to both challenge and support their efforts to grow as a student and citizen while capitalizing on the wonderful opportunities offered through the Southern Miss community. As a result our students prosper, our community is served and Southern Miss continues to move forward. We are truly grateful to be a part of the vision of the Luckyday Foundation and the generous gifts of Frank Day."
The generosity of the Luckyday Foundation fosters student growth both inside and outside the classroom while helping move the Hattiesburg community forward. Luckyday Citizenship Scholars are introduced to the philosophy of servant leadership through a special class designed for the program, where they learn to be leaders by choosing to serve first. Leadership opportunities follow their freshman year, and a large percentage of students go far beyond the requirements of the scholarship, providing leadership for the program and support for their fellow students.
Students are challenged to make a difference in their communities by actively participating in local charitable organizations. Since 2002, Luckyday Citizenship Scholars have completed more than 200,000 hours of community service in and around the Hattiesburg area.
Support from the Luckyday Foundation also provides scholarships for students to study abroad in the program of their choice. The Luckyday Study Abroad Scholarship is a $4,000 competitive scholarship open to sophomore, junior and senior Luckyday Scholars who have completed at least 30 credit hours and are in good standing with the Luckyday Program.
In 2011, the Luckyday Foundation made a $4 million gift commitment to the USM Foundation to be used for construction of new student housing. Designated as Luckyday Citizenship Hall, the new facility will be one of three buildings included in Century Park South, a residence hall complex that will provide 954 beds for freshmen and other scholarship students. Luckyday Citizenship Hall will house Luckyday scholarship students and the Luckyday program offices. This designated community will provide an environment for freshmen scholars to be encouraged by upperclassmen mentors and develop a supportive group that guides their transition into the university experience.
"The Luckyday Citizenship Scholars Program is one of the most successful scholarship programs in the history of our institution," said Southern Miss President Rodney D. Bennett. "Not only do these talented students receive scholarship assistance and the opportunity to study abroad, but they also learn life skills that will make them better citizens and leaders. When Luckyday Citizenship Hall opens in the fall, this new facility will even further elevate this important program."
University officials broke ground on the new complex in September 2013, and Luckyday Citizenship Hall is slated to open in August 2014.
"The Luckyday Foundation applauds The University of Southern Mississippi for the continued success of the Luckyday Citizenship Scholars Program," said Holmes Adams, Chairman of the Board of Managers of the Luckyday Foundation. "By renewing our commitment to this outstanding program at USM, we are continuing to support Frank Day's vision to educate young people in Mississippi."
For more information about the Luckyday Citizenship Scholars Program at Southern Miss, visit www.usm.edu/luckyday.