Southern Miss Enrolls Most Academically Talented Student Body
Wed, 09/10/2014 - 14:54pm | By: Van Arnold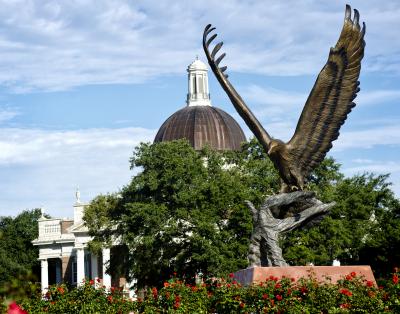 With an average GPA of 3.26, Fall 2014 freshmen have extended a five-year streak of rising grade point averages based upon enrollment figures released today. (Photo by Kelly Dunn)
The University of Southern Mississippi announced today that its Fall 2014 entering class is the most academically talented in the institution's recorded history.
With a renewed focus on student recruitment, retention, progression and graduation, the University's newest students have the highest grade point average of any entering class. In addition, retention and graduation rates have improved.
In all, 14,845 students are enrolled for the Fall 2014 semester, slightly below the total from Fall 2013, when Southern Miss enrolled 15,249 students. With an average GPA of 3.26, Fall 2014 freshmen have also extended a five-year streak of rising grade point averages. In Fall 2013, the average high school grade point average of a first-time freshman was 3.21, up from 3.18 in Fall 2012, 3.15 in Fall 2011, 3.08 in Fall 2010, and 3.06 in Fall 2009. The new freshman class has an average ACT score of 22.5, the highest known in University history.
Additionally, Southern Miss has enrolled more transfer students for each of the past five years than any other IHL institution. This fall, the University welcomes a total of 1,531 new transfers who have an average GPA of 3.00.
"While others across the country may have opted to grow enrollment at any or all costs, including quality, we have chosen a different path," University President Rodney D. Bennett said. "We have chosen to be intentionally better and stronger."
Among the policy changes to enhance the academic quality of the student body was an earlier deadline for new freshmen to be admitted to the University. Previously, new freshmen could apply and gain admission to the institution through early in the fall semester. In 2014, new freshman applicants were only considered on a case-by-case basis after July 1.
This change meant hundreds of students who traditionally attempted to apply just prior to or after the semester began were unable to in 2014. Students who apply late are often less prepared and less committed to rigorous academic work than students who make application decisions months in advance.
"When presented a choice between bigger or better, USM will choose better - every time. Our long-term plan is to grow enrollment with more academically qualified students, supported by a highly qualified and student-centered faculty," Bennett said.
Student retention remains a top priority at Southern Miss and identifiable progress has been made in that crucial area. The first-year retention rate from the fall 2013 class is 74.04 percent – an increase from 71.4 percent the previous year. Important increases can also be noted in the five-year graduate rate (2009 first-time, full-time freshman class) of 45.1 percent – the highest in more than 10 years; and the six-year graduate rate (2008 first-time, full-time freshman class) of 48.3 percent, up from 45.1 percent.
More students are also taking classes offered through the Southern Miss Gulf Park campus in Long Beach with 2,880 students enrolled, up by 3.26 percent from 2,789 a year ago. Additionally, the number of student credit hours produced by faculty based on the Gulf Park campus increased 2.24 percent from 23,742.5 in Fall 2013 to 24,274 in Fall 2014.