Southern Miss Gulf Park Campus to Host Tailgate Under the Oaks
Wed, 10/29/2014 - 13:08pm | By: Jenny Tate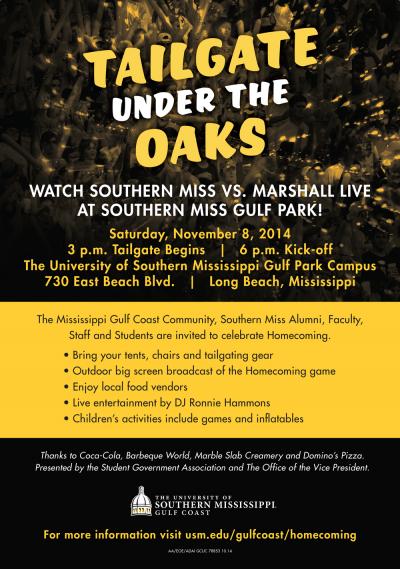 In conjunction with Homecoming activities, The University of Southern Mississippi's Gulf Park Campus in Long Beach will host the inaugural Tailgate Under the Oaks event on Saturday, Nov. 8.
The Mississippi Gulf Coast community, Southern Miss Alumni, faculty, staff, students and friends are invited to bring their tailgate to the South Lawn of the Gulf Park Campus. The tailgate event begins at 3 p.m. and will feature live entertainment by DJ Ronnie Hammons, games, inflatables, and activities for the entire family. Coca-Cola, Barbeque World, Marble Slab Creamery and Domino's Pizza will serve as vendors during this event. The Southern Miss versus Marshall football game will be broadcast live on a large outdoor screen beginning at 6 p.m.
"We are extremely excited about holding an event on the Gulf Park Campus in celebration of Homecoming. This inaugural event will give our local students, faculty, staff, friends and family an opportunity to participate in one of the University's biggest annual events regardless of whether or not they can travel to Hattiesburg," said Steven G. Miller, interim vice president for the Gulf Park Campus. "In addition, it serves as a great connector between Southern Miss and the Gulf Coast community allowing us to showcase our beautiful beachfront campus setting."
Tailgate Under the Oaks is presented by the Student Government Association and the Office of the Vice President at the Gulf Park Campus. The event is free and open to the public. In the event of inclement weather, activities will be held inside Hardy Hall Ballroom.
Student Government Association president Hayley Whitehead said, "I think this is a great beginning to a Southern Miss Gulf Park Campus tradition, and it is a fantastic opportunity for our campus to reach out to our surrounding communities."
Interested in participating? Visit usm.edu/gulfcoast/homecoming.
For more information on Tailgate Under the Oaks, contact Crystal Stinson by email at crystal.stinsonFREEeagles.Mississippi. For complete details of public events surrounding Homecoming 2014 at Southern Miss, visit www.usm.edu/homecoming/alumni-public-homecoming-events.