Southern Miss IDS Coordinator Alliston Elected to National Board
Thu, 11/20/2014 - 11:09am | By: Alma Ellis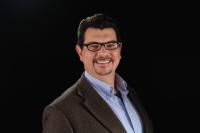 Dr. Jerry R. Alliston
Dr. Jerry R. Alliston, coordinator for Community Inclusion and Volunteer Services, at The University of Southern Mississippi's Institute for Disability Studies (IDS), was elected to the board of directors for the Association of University Centers on Disabilities (AUCD) during the organization's 2014 annual conference in Washington D.C.
Alliston, chair of the Community Education and Dissemination Council, began a three-year term to the AUCD Board. Comprised of professionals, individuals with disabilities and family members, the board reviews trends and issues and facilitates communication across and beyond the AUCD network.
"I am blessed to work with the future leaders of tomorrow," said Alliston. "I have the unique opportunity to develop and implement inclusive programs for youth and young adults with disabilities. My work allows me to assist these individuals in recognizing their abilities and learn how to share it with others."
AUCD is a membership organization consisting of a national network of university-based interdisciplinary programs. The network members consists of 67 University Centers for Excellence in Developmental Disabilities (UCEDD), 43 Leadership Education in Neurodevelopmental Disabilities (LEND) Programs and 15 Developmental Disability Research Centers (IDDRC).
Alliston has been with IDS for almost 10 years and has served as coordinator and trainer for numerous projects. Currently, Alliston serves as the principal investigator for the Mississippi Partnerships for Employment Project, the Advocacy TEAM project, Project SEARCH Southern Miss and the TRIAD Service AmeriCorps Program. He has focused on the development of transition to adulthood programs for youth and young adults with disabilities.
IDS is Mississippi's University Center for Excellence in Developmental Disabilities (UCEDD) and has a mission to enhance the quality of life across the life span for citizens with disabilities and their families, regardless of culture, ethnicity, or socioeconomic background. IDS will celebrate 40 years of education, research and service to Mississippians with disabilities in 2015. For more information about IDS, visit the Institute's website at www.usm.edu/disabilty-studies.