Southern Miss, MGCCC Enter Concurrent Enrollment Agreement
Mon, 08/04/2014 - 14:29pm | By: Charmaine Williams Schmermund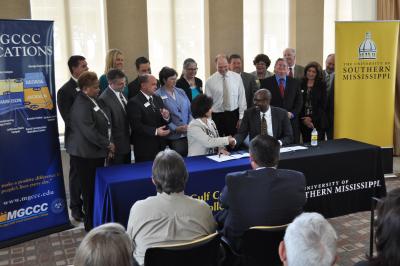 University of Southern Mississippi President Rodney D. Bennett, right, shakes hands with Mississippi Gulf Coast Community College President Mary Graham during a news conference to announce a memorandum of understanding between the institutions regarding concurrent student enrollment. (Photo by Charmaine Schmermund)
In an effort to increase higher education opportunities for students, Mississippi Gulf Coast Community College and The University of Southern Mississippi have entered into a new concurrent enrollment agreement allowing students in select academic programs to seamlessly complete degrees from both institutions.
At a press conference held Monday at The University of Southern Mississippi's Gulf Park campus in Long Beach, MGCCC President Mary S. Graham and Southern Miss President Rodney D. Bennett signed a memorandum of understanding agreeing that students may apply for concurrent enrollment in designated academic programs.
"I am excited about our new partnership with Mississippi Gulf Coast Community College," Bennett said. "The opportunity to co-enroll will expand degree options available to Gulf Coast students, who already have access to more than 50 academic programs offered through our Gulf Park campus. I look forward to working with President Graham and her team to enhance degree opportunities and increase access to higher education for coastal residents."
This partnership, which provides both financial and convenient enrollment benefits to Gulf Coast students, gives them an opportunity to define their career path early on leading to increased retention rates among those receiving degrees in the state of Mississippi.
The program, set to begin fall 2015, includes seven academic programs in general business, child and family studies, psychology, biological sciences, marine biology, para-legal studies and film studies. Pilot programs in select academic disciplines may begin as early as the spring 2015 semester.
"At Gulf Coast we are committed to providing our students with every available resource they need to succeed," said Graham. "By allowing our students to concurrently enroll at MGCCC and USM, we will be able to streamline student services and curriculum, thereby creating fewer barriers between the student and completion. We are excited to work closely with USM to provide our students the opportunity to obtain their four-year degree right here at home."
Through the program, concurrent enrollment allows students to be enrolled in one or more classes for either institution simultaneously. Both institutions will administer admission requirements and program advising to ensure student success.