Southern Miss Researchers Working to Find Cure for Alzheimers Disease
Fri, 12/12/2014 - 16:39pm | By: Jamie Allen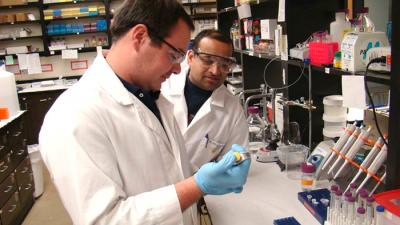 University of Southern Mississippi graduate student Dexter Dean, foreground, is conducting research on Alzheimer's disease in the lab of Professor Vijay Rangachari. (Submitted photo)
While you are reading this article, two-to three people will develop Alzheimer's disease - a life-threatening illness that killed more than 83,000 people in 2010 alone.
However, with the help of Mississippi IDeA Network of Biomedical Research Excellence (INBRE), Southern Miss Professor Vijay Rangachari is furthering research on the disease to help find better treatments, or a cure, for those affected.
Currently, Alzheimer's disease affects one in every three people ages 85 and older. Researchers have yet to find a cure to the disease, but, Alz.org notes that doctors and scientists have found treatments to temporarily slow the worsening of the symptoms and improve the quality of life for the patients.
Today, Rangachari joins in the worldwide effort researching the behavior and formation of the disease in order to find better ways to treat the Alzheimer's, delay its onset, and prevent it from developing.
"Our lab is working to discover exactly how Alzheimer's disease forms and behaves as this information is widely unknown," said Dexter Dean, a graduate student who works with Rangachari.
Over the past several years, with funding from Mississippi INBRE through a grant from the National Institutes of Health, Rangachari has researched the disease and published several reports of his findings.
Alzheimer's disease develops because one specific protein changes its shape (rogue form) and starts to clump together, which then becomes toxic leading to the death of neurons. The rogue form of the protein cause the normal proteins to transform into similar rogue form, leading to the accumulation of protein "plaques" in the brains of Alzheimer's patients.
Rangachari's lab is researching to discover exactly what causes the rogue form of the protein to emerge, and how these rogue forms spread throughout the brain. Their newest publication details new information on the rate in which the proteins change and their behavior.
As an undergraduate student, Dean got his first glimpse of this research through a research experience in Rangachari's lab. During that summer, he developed a passion for this research and came back as a graduate student to work with Rangachari again.
"I have been fortunate in my first year of pursuing a doctoral degree to work alongside others in advancing this research project. I look forward to making significant advancements in the coming years," Dean said.
Rangachari added that this research would not be possible without the support of Mississippi INBRE as they are the major funding entity in this project and have allowed for networking opportunities with other laboratories in Mississippi who also do research on Alzheimer's disease.
"Mississippi INBRE's funding of this project has been extremely important. They provided the support needed to conduct our research," Rangachari said.
Mississippi INBRE is a statewide program that is funded by an Institutional Development Award (IDeA) from the National Institute of General Medical Sciences of the National Institutes of Health. Its mission is to enhance the biomedical foundation in Mississippi and to reach out to Mississippians in order to improve health throughout the state.
Mississippi INBRE seeks to engage talented researchers and students in biomedical research projects that will increase the state's research competitiveness as well as impact the health of citizens of Mississippi.
For more information about Mississippi INBRE, check out their website, msinbre.org.