Southern Miss Showcases Freedom Summer, 1964: The Photographs of Herbert Randall
Thu, 06/05/2014 - 14:47pm | By: Dawn Smith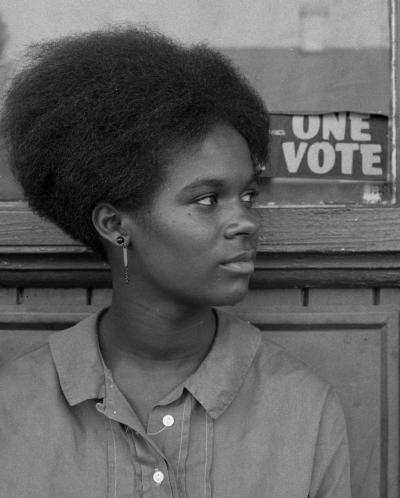 The photographs of award-winning civil rights photographer Herbert Randall Jr. are being displayed in the University of Southern Mississippi's Cook Library Art Gallery and Learning Commons Gallery through Sept. 6
In commemoration of the 50th anniversary of Freedom Summer, the photographs of award-winning civil rights photographer Herbert Randall Jr. are being displayed in the University of Southern Mississippi's Cook Library Art Gallery and Learning Commons Gallery. The exhibit, titled Freedom Summer, 1964: The Photographs of Herbert Randall features 43 of nearly 2,000 photographs taken during the historic summer of 1964.
Randall served as the official photographer during Freedom Summer, when an alliance of local residents, out-of-state college students and voting rights organizers from all across the U.S. gathered in Hattiesburg to secure the right for African Americans to vote in Mississippi. During that summer Randall captured 1,759 images, which he donated to University Archives at Southern Miss.
Additionally, Randall's work is permanently represented in the collections at the Metropolitan Museum of Art, the Museum of Modern Art, the New York Public Library and the Library of Congress.
Bobs Tusa, author of the 2001 book Faces of Freedom Summer: The Photographs of Herbert Randall, wrote that Randall was an African and Native American from New York who was only 28 when he was awarded the prestigious John Hay Whitney Fellowship Award for Creative Photography.
Shortly after receiving the award, he met and befriended Sanford Rose "Sandy" Leigh, director of the Freedom Summer project in Hattiesburg, who requested Randall use his fellowship to travel to Hattiesburg and serve as the official photographer.
Dr. Steven Moser, dean of the College of Arts and Letters, recognizes the importance of the historical exhibit and says he is proud to have the College partner with University Libraries to showcase Randall's photos.
"Herbert Randall's work captures a very dramatic time in America and particularly in Mississippi. The Civil Rights movement in Hattiesburg during the summer of 1964 was a significant period in the freedom struggle," Moser said. "These wonderful photographs capture that struggle. As we commemorate the 50th anniversary of Freedom Summer, we invite everyone to visit Cook Library and experience this profound exhibit."
The exhibit is open to the public and will run through Sept. 6. Visitors must check in at the Cook Library circulation desk to access the gallery. For more information, contact the Department of Art and Design at www.usm.edu/visual-arts or call 601.266.6788.