Wiest: Graduates Equipped with Education to Tackle Problems of the World
Fri, 12/12/2014 - 19:32pm | By: David Tisdale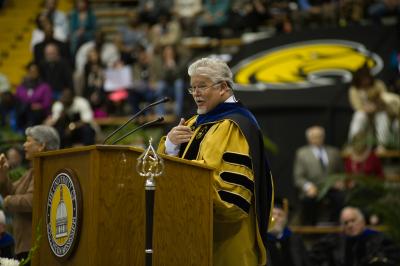 Southern Miss history professor Dr. Andrew Wiest was the keynote speaker at the university's fall 2014 commencement. (Southern Miss photo by Kelly Dunn)
Andy Wiest is excited about what the future may hold as University of Southern Mississippi graduates transition to the next chapter in their lives, taking their new education into a world he believes needs their talents to make it a better place for everyone.
"We've taught them how to think and dream, and now they need those abilities to take on the problems in our world, because there's a plethora of them that we haven't solved yet," said Wiest, a professor of history and founding director of the university's Dale Center for the Study of War and Society.
On Friday, Dec. 12, Wiest gave the commencement address at his alma mater during ceremonies at Reed Green Coliseum. Approximately 1,200 students were candidates for degrees during the fall 2014 semester.
A popular instructor known for his deftness at mixing serious with silly, Wiest reminded those who had taken his History 101 course as freshmen how he was the first person "who stood between them and graduation."
"Now, here we are at the end of all things Samwise Gamgee, and I am the last person standing between you and graduation," he said.
On more serious matters, he asked graduates to consider their place in the world and what they might do to advance humanity. "Hopefully someone in this room will find a cure for cancer," Wiest said. "Maybe someone in this room will figure out a way to fix an increasingly warm and increasingly crowded planet. Will someone in this room figure out a way to solve the problems of the Middle East that are threatening to tear our world apart? Will someone in this room dream the dream that leads to a solution to the race problems that still vex our nation?"
Southern Miss President Rodney D. Bennett concurred with Wiest, saying he also believes the university's graduates have been prepared with the skills and knowledge to make a positive impact. "Today is always a special day for the university, and reminds us of why we do what we do," Bennett said.
Breanna Delagrave of Biloxi, Miss. received her diploma during the morning commencement after earning a degree in community health sciences. She has already accepted a job with the American Lung Association, working with its Mississippi Tobacco Free Coalition. "It's really exciting and a dream come true," she said of completing her degree. "It feels good to see my success in front of me.'
Amada Fayard of Gulfport, Miss. said she's considering entering the ministry or becoming a chaplain in the U.S. Air Force after earning her degree in religion with a minor in physics. She said she's glad she chose Southern Miss for her college education and would recommend it to others. "It's a wonderful university with a beautiful campus," she said.
Emphasizing the importance of family in the grand scheme of life, Wiest also reminded the graduates that they were and are their parents' "number one job."
"They saved their biggest dreams for you," he said. "They raised you to be capable of dreaming, thinking and doing. And now you have brought them great joy – because you went out and did it. You have met the challenge and are to be congratulated.
"But you couldn't have done it without them. I implore you to do the same for your own children one day."