Allison Tharp Takes Top Prize in Southern Miss Thesis Competition
Tue, 11/17/2015 - 14:24pm | By: Vanessa Molden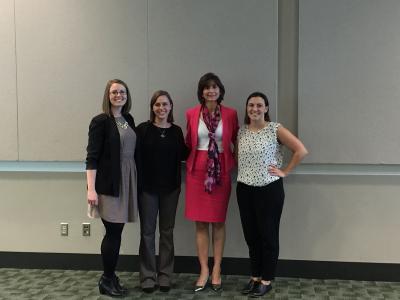 Three-Minute Thesis winners poses with Dr. Karen Coats, dean of Graduate School at the final competition on Nov. 6. 2015. Left to right: Hali Hutchison (Runner-up), Allison Tharp (Grand Champion), Dr. Karen Coats and Erica Pasquini (People's Choice). Photo by photo by Tamanna Shanta.
Allison Tharp, an English doctoral student at The University of Southern Mississippi, was named the Grand Champion in the Second Annual Three-Minute Thesis competition which was held Nov. 6 on the Hattiesburg Campus.
The Three-Minute Thesis (3MT®) is a communication skills development competition which challenges graduate students to explain the significance of their research project to a general audience in three minutes or less. Using a single static PowerPoint slide, students are challenged to bring their research to life in an engaging way, using language understandable to a general audience, in three minutes or less.
"Having to distill my 150 page dissertation into three minutes benefitted me immensely. It forced me to determine the crux of my argument and the importance of that argument," said Tharp. "It made me find a way to make my topic matter to a general audience."
Tharp's presentation, "Physical Containment in Mid-Nineteenth-Century American Protest Literature" shows the social and political power of literature, the ways in which writing can aim to create a more equal world, and the ways in which literature has the power to change a reader's attitudes, beliefs, and behavior.
She will advance to the Conference of Southern Graduate Schools Three Minute Thesis competition in Charlotte, N. C. February 20-21, 2016.
Hali Hutchison, a master's theater student, took home the runner-up prize with her presentation entitled "Shakespeare's As You Like It for the 21st Century." Theatre attendance still continues to dwindle. I believe it is in part due to the perceived "stilted language" of Shakespearean and classic plays. As You Like It is one of the original romantic comedies," noted Hutchison. "Now that it [As You Like It] has opened, I hope that my research and design will show audiences that Shakespeare isn't as scary as they think and get more people in the theatre, so they can experience the joy and honesty of Shakespeare's plays."
The People's Choice prize went to Erica Pasquini, a kinesiology doctoral student. "The act of writing the script helped me gain clarity on exactly what I do and how to communicate it effectively," said Pasquini. "This experience will help me in preparing for job interviews and the casual conversations at conferences when people ask about what I do."
"Changing Youth Sport: The Coach Expectancy Cycle" was the title of Pasquini's presentation. She explains that currently 70 percent of youth stop playing organized sport by the age of 13, which is adding to the growing obese youth population in our country.
"My research is important because it has the potential to change the way youth sport operates in our country. Organized sport is not solely about competition," she said. "It is a way to learn life long activity skills, to engage in fun physical activity, to build relationships, and to increase confidence. The best way to do that is to change how coaches are trained, and to educate them on how their behaviors can help give all kids that confidence to grow."
The Three-Minute Thesis competition was hosted by the Southern Miss Graduate School. To learn more about the Graduate School visit www.usm.edu/graduate-school.