Dale Center to Host Events Commemorating End of Vietnam War
Mon, 04/20/2015 - 18:55pm | By: David Tisdale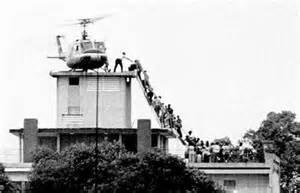 The Dale Center for the Study of War and Society at USM will host two events in April marking the 40th anniversary of the end of the Vietnam War.
The Dale Center for the Study of War and Society at The University of Southern Mississippi will host two events April 28-30 marking the 40th anniversary of the end of the Vietnam War and America's role in the controversial Southeast Asia conflict.
A free screening of the award-winning documentary "Last Days in Vietnam," which tells the story of the fall of the Republic of Vietnam's capital Saigon, will be presented Tuesday, April 28 at 5 p.m. in the Liberal Arts Building's Gonzales Auditorium (room 108). Southern Miss History Professors Dr. Andrew Wiest and Dr. Heather Stur, both fellows in the Dale Center and Vietnam War experts, will make opening remarks and offer a question and answer session after the screening.
Wiest and Stur are also leading the Dale Center's collaboration with the Vietnamese community in New Orleans East to host a commemoration of the 40th anniversary of the fall of Saigon April 30. The event will be held from 9 a.m. – 2 p.m. at Panda King Restaurant in Gretna, La., and will include a panel discussion with Wiest serving as keynote speaker.
Kiem Do, a former officer in the South Vietnamese Navy who was involved in the evacuation of Vietnamese refugees on April 30, 1975 and interviewed in "Last Days in Vietnam" will join Stur as one of the speakers in the panel discussion.
The professors have been working with the community since December 2014, and back in February some of their students went to New Orleans and interviewed Vietnamese residents about their experiences in the fall of Saigon and their lives in the U.S. Two of Stur's students are making a website that will feature the interviews, which will be permanently housed in the University's Center for Oral History and Cultural Heritage.
Stur and Wiest have also worked with Cyndi Nguyen, executive director of the Vietnamese Initiative in Economic Training (VIET) to organize the event.
The 40th anniversary of the fall of Saigon is an opportunity to reflect on how to tell the Vietnam War story and what has been left out of public memory, said Dr. Stur.
"Vietnamese voices, especially those from South Vietnam, remain largely absent or marginalized in American and state-sanctioned Vietnamese accounts of the war, and one of the things that's important to me as a scholar of the war is to incorporate more Vietnamese perspectives into the narrative," Dr. Stur said. "One of the ways to do that is to examine the experiences of those who fled Vietnam in 1975 and after."
For more information on this event, e-mail Dr. Stur at heather.sturFREEMississippi or Dr. Wiest at andrew.wiestFREEMississippi. For information about the Dale Center, visit http://www.usm.edu/history/war-society.