Dale Center at Southern Miss Welcomes Australian Expert on Military History
Fri, 04/10/2015 - 15:22pm | By: Haley Athens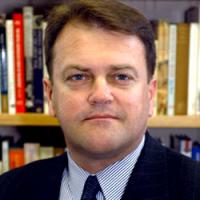 Dr. Jeffrey Grey
The Dale Center for the Study of War & Society at The University of Southern Mississippi will welcome Dr. Jeffrey Grey, an international expert on military history, as the featured speaker for the Annual Richard McCarthy Lecture Series on Monday, April 13.
Grey will present "A Great War of Empire: Britain, the Ottomans and the Campaign in the Middle East, 1914-1918." The lecture will start at 6 p.m. in the Liberal Arts Building, Room 102 on the Hattiesburg campus.
"Southern Miss and the Dale Center are honored to bring the incoming president of the Society for Military History to Hattiesburg as he talks about his recently published book, The War with the Ottoman Empire," said Dr. Susannah J. Ural, Blount professor of Military History and Director of Undergraduate Studies.
Grey is professor of history at University of New South Wales-Canberra and the current president of the Society for Military History. As a leading scholar examining Australian and comparative and international military history, Grey is the author or editor of more than 20 well-respected books, including Australia's Vietnam War and the Oxford Companion to Australian Military History, as well as numerous articles, book chapters and reviews.
Grey currently serves as a member of the Army History Research Grant Schemes Committee (Australian Army), Army Historical Advisory Committee (Australian Army) and an adjunct senior research fellow at the Land Warfare Studies Centre (Australian Army). As President of the Society for Military History, he oversees the most important scholarly organization in the field of military history, with more than 2,500 members worldwide.
For more information about upcoming events in the College of Arts and Letters, of which the Department of History is a part, visit http://artsandlettersnow.usm.edu/index.html. To learn more about the Dale Center, visit: http://www.usm.edu/history/war-society