Miller Named Southern Miss Associate Provost for Academic Excellence
Wed, 06/10/2015 - 14:40pm | By: Jim Coll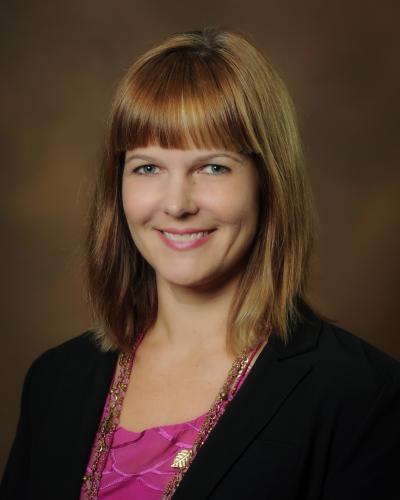 Dr. Amy Chasteen Miller
Dr. Amy Chasteen Miller has been named The University of Southern Mississippi's Associate Provost for Academic Excellence, effective July 1. Miller will lead the University's increased foci on undergraduate student engagement and faculty development.
The position will help USM students thrive through retention initiatives, recognition of student excellence and opportunities for active learning. It will also support faculty through programs that enhance orientation and mentoring, as well as support for advising.
"The University of Southern Mississippi will continue our work to ensure student success and enhance academic instruction," University President Rodney D. Bennett said. "This position will help us achieve goals related to faculty development and student retention, progression and graduation at levels never before realized."
Miller came to The University of Southern Mississippi in 1997 as a faculty member in sociology. In 2009, she became Chair of the Department of Anthropology and Sociology, and in 2013 she was named Associate Dean for Academic Affairs in the College of Arts and Letters, where she was tasked with spearheading the college's effort to recruit, engage, and enhance the experiences of undergraduate students.
"Her record of success with retention initiatives in the College of Arts and Letters make her especially well-suited to be successful as our Associate Provost for Academic Excellence. I couldn't be more pleased to have Dr. Miller lead these efforts," said Provost Denis Wiesenburg.
Miller completed an interdisciplinary undergraduate degree at the University of Alabama, after which she obtained a Masters of Arts in Sociology at the University of Tennessee and a Ph.D. in Sociology at the University of Michigan, specializing in culture and gender studies. At Michigan, she also earned a Graduate Certificate in Women's Studies.
In 2013, a University committee was charged with developing recommendations to increase USM's ability to engage students effectively, ensure student success and improve graduation rates. At the core of those recommendations was the designation of an administrative position with the appropriate authority and the responsibility to coordinate the development and implementation of additional committee recommendations and related initiatives.
"The creation of this position indicates the University's commitment to student engagement and success," Miller said. "It provides an opportunity to lay a strong foundation for student support, as we work toward ensuring all students reach their peak potential."