Moser Named Southern Miss Provost and Senior Vice President for Academic Affairs
Thu, 11/12/2015 - 06:11pm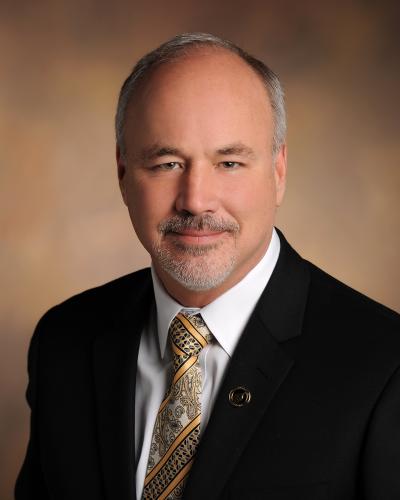 Dr. Steven R. Moser has been named Provost and Senior Vice President for Academic Affairs at Southern Miss.
The University of Southern Mississippi has named Dr. Steven R. Moser its new Provost and Senior Vice President for Academic Affairs, pending approval by the Board of Trustees of the State Institutions of Higher Learning.
The announcement follows a national search that included outreach to more than 600 potential applicants and culminated in University visits with the top three candidates, who were selected from a pool of more than 60 applicants.
Moser, Professor of Music and former dean of the University's College of Arts and Letters, has served as interim provost for the past four months. During that time, he has led significant efforts to enhance Academic Affairs operations, enrollment strategies and student success programming.
"My vision as President is for The University of Southern Mississippi to be the model for public higher education across the country, and every facet of academic affairs is a significant component in our ability to accomplish that goal," said University President Rodney D. Bennett. "As we work to provide high-quality education and research programs that advance the quality of life in the state of Mississippi and beyond, I am confident that Dr. Moser's deep knowledge of and commitment to our University coupled with his strong academic background and ability to develop and maintain effective relationships across the institution will facilitate our success."
During his interim appointment, Moser implemented organizational changes in Academic Affairs, including realignment of enrollment and student success functions in Hattiesburg and at the University's Gulf Park campus in Long Beach. He has also worked to align academic budgeting processes with institutional processes and timelines and facilitated additional collaboration among the University's Gulf Park Associate Deans.
Ongoing work includes development of a relational database for productivity analysis and forecasting in academic affairs and mapping college strategic plans under the institutional strategic planning framework.
"I am honored to accept this appointment," said Moser. "My understanding of the University's history and culture, my varied administrative experiences, and my creative sensibility are strengths that I have relied on during the interim period, and I look forward to continuing our current work to elevate the academic mission of the University as we enhance our teaching and research missions across our dual campus system, address fiscal challenges with innovative solutions, and expand our enrollment and student success strategies. Given the shared governance structure to which our academic community subscribes, we will continue moving forward with frequent, honest, and multidirectional communication."
The provost and senior vice president for academic affairs provides oversight for all facets of academic program management and enrollment management functions at all USM campuses and teaching sites. The position is a member of the University's Executive Cabinet and reports directly to the University president.
"I have interacted with Dr. Moser both in his interim role and as a member of the screening committee, and I am personally delighted with his selection," said Dr. David Hayhurst, Dean of the University's College of Science and Technology. "The committee identified three exceptionally qualified candidates, each with a unique skillset, and Dr. Moser distinguished himself at all stages of the interview process. He is a strategic thinker with a global view of the University, and his metrics-driven approach involves interdisciplinary collaborations focusing on the central role of scholarship in our academic mission while providing exceptional opportunities for students. I am confident that President Bennett has selected a strong partner who will help us become a national model for public research universities."
The search process was led by a 28-person screening committee comprised of faculty, staff, students, and alumni. The top candidates each spent three days visiting the University's campuses in Hattiesburg and Long Beach last month.
"This was a great committee experience, and it was an honor to serve my University in this national search that brought three excellent candidates to our campuses," said committee Vice Chair Dr. Cyndi Gaudet, Professor and Chair of the Department of Human Capital Development on the University's Gulf Park Campus. "Each candidate had the opportunity to meet with faculty, students, staff and community stakeholders. Dr. Moser emerged as the strongest candidate to lead Southern Miss as our chief academic officer, and I am confident his leadership will make a difference in Hattiesburg and along the Gulf Coast."
Moser has nearly 30 years of experience in various teaching and administrative positions at The University of Southern Mississippi and Texas Christian University. He came to the University in 1990 as director of the Pride of Mississippi and a Music Education professor specializing in instrumental conducting. He remains active in the field as a conductor and adjudicator.
"I am very pleased that the screening committee was able to accomplish its goal by identifying three exceptional finalists for this position," said committee Chair Dr. Sabine Heinhorst, Professor and Chair of the Department of Chemistry and Biochemistry. "Dr. Moser advanced through each stage of the intensive screening process by demonstrating his qualifications, experience, and vision for the position of Provost. He has also demonstrated his commitment to our University, and I am convinced that he will be an effective leader of Academic Affairs who will advance faculty development and scholarship along with student success and enrollment goals."
Moser earned his Ph.D. from The University of Southern Mississippi, an M.M.E. from Texas Christian University, and a B.M. from the University of Mississippi. He is a 2007 fellow of the Management Development Program in the Graduate School of Education at Harvard University and a 2014 Aspen Institute Wye fellow.