Regional IDeA Meeting Comes to Biloxi, Hosted by Mississippi INBRE and Southern Miss
Wed, 11/18/2015 - 11:21am | By: Jamie Lott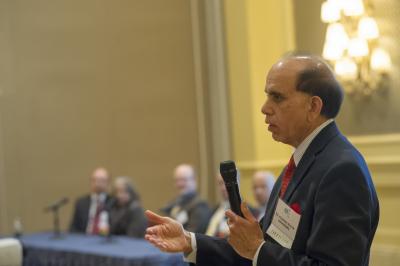 Dr. Krishan Arora, Program Director for the Center for Research Capacity Building in the National Institute of General Medical Sciences, National Institutes of Health; speaking in the general session. (Submitted photo)
The IDeA program in Mississippi served as host for the 2015 Southeast Regional IDeA Meeting held at the Beau Rivage Resort & Casino in Biloxi, Miss., on Nov. 11-13.
The more than 400 attendees of this record-breaking meeting represented the seven states that comprise the Southeast Region of the IDeA program: Arkansas, Kentucky, Louisiana, Mississippi, Puerto Rico, South Carolina and West Virginia. Also included in the list of attendees were several representatives from the National Institutes of Health.
The IDeA (Institutional Development Awards) program is funded by the National Institutes of Health (NIH) as a way to broaden the geographic distribution of NIH funding for biomedical research. As of today, this program funds 23 states and Puerto Rico in an effort to increase the biomedical research infrastructure in each state.
At the meeting, faculty, post-doctoral fellows, graduate students and undergraduate students were able to present the research they had been working on as well as exchange ideas. The areas of research that were presented included: Bioinformatics, Cancer, Cardiovascular Research, Cell Signaling, Genomics, General Biomedical Science, Infectious Disease/Immunology and Neuroscience.
"This meeting of the Southeast IDeA Program afforded scientists to share their research findings, establish new and strengthen current collaborations and share best practices in the development of scientists conducting biomedical research through the NIH-IDeA program," said Dr. Stephen Cutler, director of the NIH-NIGMS COBRE-NPN.
The meeting began Wednesday with a welcome reception at the Maritime & Seafood Museum and continued throughout Thursday and Friday as more than 250 researchers presented their research in both oral presentation and poster presentations.
"It was a great opportunity to showcase all the research that is going in Mississippi. It also allowed our scientists and students to network with many talented scientists," said Dr. Mohamed Elasri, director of Mississippi INBRE.
This year's meeting was graciously hosted by Mississippi IDeA Networks of Biomedical Research Excellence (INBRE) and The University of Southern Mississippi and is also sponsored by The University of Mississippi Medical Center.
"The support from the NIH through the IDeA Program is having a meaningful impact on biomedical research in the southeastern region. The role of the University of Southern Mississippi in hosting this event made it an outstanding symposium," added Cutler.
About Mississippi INBRE
Mississippi INBRE, directed by Dr. Mohamed Elasri, a professor at The University of Southern Mississippi, is a statewide program that is supported by an award from the National Institutes of General Medical Sciences. Their mission is to enhance the biomedical foundation in Mississippi and to reach out to Mississippians in order to improve health throughout the state.
Mississippi INBRE seeks to engage talented researchers and students in biomedical research projects that will increase the state's research competitiveness as well as impact the health of citizens of Mississippi.
For more information about Mississippi INBRE, check out the website, msinbre.org.