Swope Awarded Blount Professorship in Military History
Tue, 09/29/2015 - 16:41pm | By: David Tisdale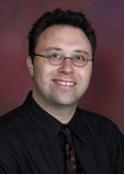 Dr. Kenneth Swope, an expert on China and East Asia history, is the recipient of the General Buford "Buff" Blount Professorship in Military History at The University of Southern Mississippi.
The Blount Professorship is awarded biannually and funds research by a faculty member of the Southern Miss Department of History toward publication of a major study in the field of War and Society. At the end of their two-year term, the holder of the Blount Professorship will present a lecture or program based on the findings of their research. Swope is the second recipient of the professorship.
Professor Swope is director of graduate studies for the Southern Miss Department of History and a Senior Fellow in its Dale Center for the Study of War and Society; book review editor for The Journal of Chinese Military History; and a member of the Board of Directors for the Chinese Military History Society. His research interests encompass the military, social, political, and diplomatic history of early modern East Asia.
Swope's most recent book is The Military Collapse of China's Ming Dynasty, 1618-1644. It was featured on the podcast "New Books in Military History" and named a Choice Outstanding Academic title. He is currently researching and writing On the Trail of the Yellow Tiger: War, Trauma and Social Dislocation in Southwest China During the Ming-Qing Transition, to be published by the University of Nebraska Press. He has lived in Hong Kong, Taiwan, and mainland China and conducted research all over East Asia.
"It's a great honor to be the second recipient of the Blount Professorship. It provides me with the opportunity to go to China to do research and consult rare sources literally seen by just a few people in the entire world," Swope said. "In fact, I spent 3 weeks this past summer in China, visiting archives, using the National Library and traveling to remote sites associated with my research. So the Blount Professorship has already impacted my research in a positive manner."
Swope will give three public lectures this fall based in part on his findings. He will also use material he purchased and photos taken in China as material for his modern Chinese history class in the spring 2016 semester.
A native of Bassfield, Miss., Blount graduated from Southern Miss in 1971 and went on to a distinguished career in the U.S. military, rising in rank to major general before retiring in 2005. He lead the U.S. 3rd Infantry Division into Baghdad in 2003, toppling the regime of Iraq dictator Saddam Hussein.
"I'm very happy to support Dr. Swope's research with this professorship," Blount said. "We have to know more about China. It's the second largest economy in the world, and I believe America should work with them as a partner economically and culturally. Through Dr. Swope's research and expertise in this part of the world, we can prepare students at USM to help America meet that goal."
For information about the Southern Miss Department of History, visit www.usm.edu/history; for information about the Dale Center for the Study of War and Society, visit http://www.usm.edu/history/war-society.