World War II Divisions Archives, Website Has New Home at Southern Miss
Wed, 11/11/2015 - 14:48pm | By: David Tisdale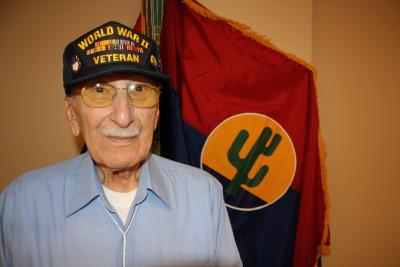 Joe De Luca, a staff sergeant with the 103d Infantry "Cactus" Division in WWII, was one of a group of veterans of the unit to visit the Southern Miss Hattiesburg campus for a reunion and donation of its archives to the University. (University Communications photo by David Tisdale)
They left the comforts of home more than 70 years ago, many of them fresh out of high school, to travel across the Atlantic Ocean and help defeat an enemy bent on enslaving the world.
That's the legacy of the men who fought in World War II with the U.S. Army's 103d Infantry Division – one of bravery, sacrifice and patriotism – and it is being preserved by The University of Southern Mississippi.
The board of directors for the 103d Infantry Division Association of WWII chose to make Southern Miss the repository for its archives and home of its website, which will be maintained by its University Libraries' Special Collections and Department of History's Dale Center for the Study of War and Society, respectively.
"It has been a long search to find the best place to house the archival collection and maintain the website of the 103d, and we're thrilled that place will be USM," said Tom Swope, a member of the division's board of directors.
The 103d Infantry Division formed in Nov. 1942 and trained for nearly two years in Texas and Louisiana under the command of Major General Charles Haffner, Jr. The division's cactus insignia represents the states from where many of the division's soldiers came from – Arizona, Colorado and New Mexico. It landed in Southern France in October 1944, moving from Marseille and then into Germany by the end of that year.
In the spring of 1945, the 103d marched through the Rhineland and then into Bavaria, where it liberated the Kaufering concentration camp, a sub-camp of Dachau. In May 1945, the 103d captured Innsbruck, Austria and after performing occupational duties following the war's end, returned to the U.S. in September 1945 and was inactivated.
Tom Swope said the decision to choose Southern Miss as permanent home for the collection was made after discussions among board members and with his nephew, Dr. Kenneth Swope, who is currently the Buford "Buff" Blount Professor of Military History at USM and Fellow in its Dale Center for the Study of War and Society. The board concluded Southern Miss had the resources, facilities and personnel to ensure its preservation, which includes an assemblage of diaries, manuscripts, maps, photos, company records and artifacts.
Family connection between 103d Infantry Division and Southern Miss
The late Clarence O. "Mike" Swope of Cleveland, Ohio who served in the 409th Regiment, Company B of the 103d Division is Tom Swope's father and grandfather of Kenneth Swope. Clarence Swope earned the Combat Infantryman's Badge, Bronze Star and a Purple Heart while fighting for his country.
Tom Swope collected about 475 oral histories for The Veterans History Project at the Library of Congress, including that of his father, beginning in 2001. His radio show, "LEGACIES: Stories from the Second World War" which is also the title of his book, uses excerpts from these interviews.
"To have everything here at Southern Miss in a permanent archival collection for anyone to use is a wonderfully fulfilling culmination of all the work my Uncle Tom and the vets and their families have done in preserving these stories and materials," Dr. Kenneth Swope said. "It will be a great resource for USM students and researchers from all over, and highlights the community outreach and academic work the Dale Center does."
USM's Curator of Historical Manuscripts and Archives Stephen Haller, who served in the Vietnam War and is the son of a World War II veteran, is charged with maintaining the 103d collection. Haller said its contents are wonderful resources for those wanting to learn about the division's role in World War II and is just "waiting for the world to discover."
But the collection is more than a record of facts and figures, Haller said. It also puts a human face on the story of the103d. "Yes, it's history, but it's also about people," Haller said. "I'm honored and humbled to be entrusted with the care of this wonderful gift."
The price of war and peace
About a dozen of the living members of the division came to the Southern Miss Hattiesburg campus recently to have a reunion and open the collection. They participated in a panel discussion and were interviewed by Southern Miss military history graduate students for oral histories. Those interviews will be housed in the University's Center for Oral History and Cultural Heritage.
Among those was Joe De Luca, a staff sergeant with the 103d and native of Wooster, Ohio who dropped out of high school to serve in the Army when the fighting broke out. "We had to win World War II. We wouldn't be the United States of America today if we didn't," he said.
He said he's proud of his service, but admitted there were trying times during the war when he wondered about the wisdom of that decision. "Once we were getting a good pounding from the Germans, and I was stuck in my foxhole for a long time and thought 'you idiot, you volunteered for this!'"
The 103d Infantry Division is recognized as an official "Liberating Unit" by the United States Holocaust Memorial Museum and the U.S. Army's Center for Military History for liberating Dachau's Kaufering sub-camp at Landsberg.
De Luca recalled when he and fellow soldiers discovered the brutality of that Nazi labor camp, including trenches holding the bodies of prisoners and the overwhelming stench of death. "They'd work them until they couldn't work anymore, and then they'd shoot them," said De Luca. "Those still alive that we were able to free from the camps, they were just bones covered with skin."
It was moments like those that reminded De Luca and the 103d why they were risking their lives on the battlefield. "Sometimes some of us would get frustrated and say 'Why are we on this trip?' And then we'd see something like that (labor camp atrocities), and we'd say, 'Yeah, this why we're on this trip.
"I guess I came back from the war a more caring person after seeing all of that."
He also returned home determined to enjoy the simple things in life, like some rest and a hot bath.
"I think I slept for about two weeks when I got back," De Luca said. "During the war, we would go days without a bath or shower. One time I went 28 days without one. When I came home, I took about two baths a day for about a month."
De Luca went on to work for Rubbermaid as a manager for one of its plastics divisions. In 2002, he took care of some unfinished business – completing the requirements to get his high school diploma. A few weeks after, he received a letter from the University of Arizona recruiting him for college.
"I was asked once what took so long for me to finish, and I said 'I'm just a slow learner.'"
Along with fellow comrades and their families, he looked on with pride during the reunion at a display of the division's collection, which will be housed in the University's McCain Library and Archives.
"I feel good about giving our records to the University," De Luca said. "There's not too many members of the 103d left, but our story will live on here."
Dr. Andrew Wiest, a distinguished professor of history and founding director of the Dale Center, said the archival donation and visit to campus by the veterans and their families was "truly one of the highlights of the year for the History Department and the Dale Center."
"Archival collections are the bedrock of writing history — the after action reports, journals, and diaries are a historian's dream come true. Having the 103d's papers at Southern Miss will make us a hub for the study of World War II," Wiest said.
Hosting and meeting the veterans was an even greater gift for the University and those who participated, Wiest said. "A gathering of World War II veterans is sadly becoming rare as time marches on, and for our students and community members to meet with, interview, and interact with these heroes of the Second World War was a priceless experience."
Guido Rossi, a military history graduate student who assisted with the reunion and interviews, echoed Wiest's sentiments. "They inspire me," Rossi said. "With their service and everything they went through during the war, these veterans really are heroes."
For information about the McCain Library and Archives, visit http://www.lib.usm.edu/about_us/libraries_collections/mccain_library_arc... for information about the Dale Center for the Study of War and Society, visit https://www.usm.edu/war-society.