Department of Marine Science Announces World Leader in Sonar Technology as Annual Wiesenburg Lecturer
Fri, 04/15/2016 - 02:59pm | By: James Skrmetta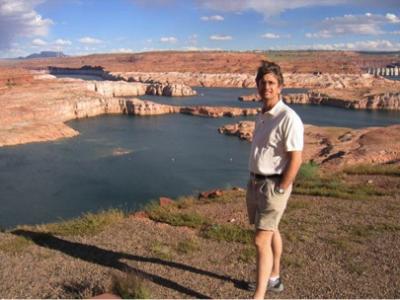 Dr. John Hughes Clarke , a professor with a joint appointment in mechanical engineering and Earth sciences at the University of New Hampshire, will deliver a presentation as the University of Southern Mississippi's Wiesenburg lecturer on Wednesday, April 20. (Submitted photo)
The University of Southern Mississippi Department of Marine Science (DMS) has announced its annual Wiesenburg lecturer as Dr. John Hughes Clarke, a professor with a joint appointment in mechanical engineering and Earth sciences at the University of New Hampshire.
The public is invited to enjoy a free lecture by Clarke titled "What Drives Deep Sea Channel Systems" at 11 a.m. April 20 in the StennisSphere Auditorium at the John C. Stennis Space Center.
"We're excited to have Dr. Hughes Clark as our Wiesenburg lecturer this year," said Monty Graham, DMS chair and interim director of the Gulf Coast Research Laboratory. "He is a world leader in multi-beam sonar technology, applications development and education."
Hughes Clarke was formally trained in geology and oceanography in the United Kingdom and Canada (Oxford, Southampton and Dalhousie). He has spent the last 24 years in a survey engineering department at the University of New Brunswick, focusing on ocean mapping methods. Hughes Clarke's underlying interest lies in resolving and understanding submarine sediment transport processes and maximizing the information available from integrated swath sonar systems.
Hughes Clarke's lecture focuses on a network of giant channels across the floors of the world's deep ocean basins. He hopes to show the importance of understanding the ways the channels flow, in order to examine modern analogs, and comprehend how they occur.
"His impressive experience made him the ideal candidate for the distinguished lecturer series," Graham said. "Hughes Clarke's resume appeals not only to our Marine Science Department, but the larger oceanographic research presence at Stennis."
Hughes Clarke is a world leader in multi-beam sonar technology, applications development and education with unique ties to both geological and physical oceanography. He was the first in the world to research acoustic imaging turbidity currents in their natural environment. In 2010, he received the Michael J. Keen medal from the Geological Association of Canada. He is the co-founder of the Coastal Multi-beam Training Course, which has attracted more than 4,000 students from all over the globe.
"Dr. Hughes Clarke is a naturally talented and charismatic speaker who connects across disciplines," said Ian Church, assistant professor at Department of Marine Science. "His ties to the Gulf Coast marine geology and hydrographic world run deep from academic and government to private industry."
Anyone interested in attending the public lecture on April 20 is urged to call 228.688.3177 or email marine.science@usm.edu to request a visitor's badge to Stennis. A badge is needed to gain access to the property.