Kate Howard Named Assistant Vice President, Dean of Admissions at Southern Miss
Mon, 04/18/2016 - 14:22pm | By: Jim Coll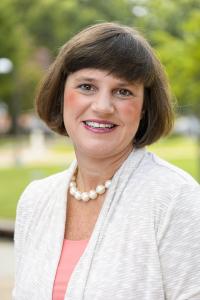 Kate Howard
University of Southern Mississippi Provost and Senior Vice President for Academic Affairs Dr. Steven R. Moser has announced the selection of Kate Howard as the University's Assistant Vice President and Dean of Admissions, effective June 27, 2016, following a national search. The appointment is pending IHL Board approval.
Howard currently serves as the Senior Associate Director of the Office of Admissions, Recruitment & Orientation Services at the University of Memphis. In her new role, Howard will oversee operations in admissions, recruiting, and financial aid, and assume a leadership role in expanding the university's enrollment and recruitment strategy.
"I cannot tell you how pleased I am to have Kate leading our admissions efforts," Moser said. "We know that we work at a great university with wonderful faculty, students and staff. Kate will guide efforts to bring outstanding young people to Southern Miss – to get them to our campuses and show them our Southern Miss spirit."
Howard is a native of West Tennessee and earned a Bachelor of Science in Education from the University of Memphis and a Master of Business Administration from Belhaven College. She has served in various roles at the University of Memphis over the last 12 years, most recently managing all undergraduate recruitment, financial aid outreach initiatives and orientation efforts.
"I am excited to join the traditions, spirit, and pursuit 'To the Top' at The University of Southern Mississippi, and I look forward to the many relationships that I will be making in this transition with students and families, the University community, and South Mississippi," Howard said. "My hope is to continue the good work of Southern Miss alongside the faculty and staff who have laid such a strong foundation."
Prior to serving in her roles at the University of Memphis, Howard served as the Coordinator of Academic Services at the Memphis campus of Belhaven College where she worked with all other enrollment services arenas including but not limited to registrar and financial aid functions.
She is currently researching first year initiatives and how they impact retention at large public universities through her work in the Higher & Adult Education doctoral program at the University of Memphis.