Southern Miss Doctoral Student Wins Second Place in Regional Thesis Competition
Wed, 03/09/2016 - 11:05am | By: Vanessa Molden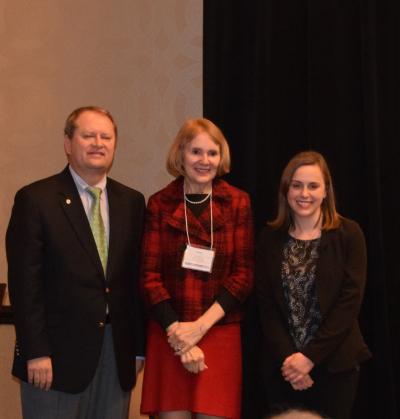 Dr. John Z. Kiss, CSGS president and dean of the Graduate School at the University of Mississippi (left), Dr. Amy McCandless, CSGS president-elect and dean of The Graduate School University of Charleston (center) and Allison Tharp, Southern Miss doctoral student (right). (Submitted photo)
Allison Tharp, an English doctoral student at The University of Southern Mississippi, placed second in the Conference of Southern Graduate Schools (CSGS) Three-Minute Thesis (3MTÒ) competition held last month in Charlotte, N.C.
"This is a real challenge. Many theses and dissertations can be over 80,000 words and take hours to present, but students in this competition have just three minutes and one slide to convey their often highly-technical research to a lay audience," said Sheryl Tucker, competition chair and associate provost and dean of the Graduate College Oklahoma State University.
"I had a wonderful experience at CSGS's regional Three-Minute Thesis Competition. I fully enjoyed learning about the relevant and valuable research other graduate students are completing, and I felt honored to share my own research with others," said Tharp.
Tharp competed against 38 graduate students with her presentation, "Physical Containment in Mid-Nineteenth-Century American Protest Literature" which shows the social and political power of literature, the ways in which writing can aim to create a more equal world, and the ways in which literature has the power to change a reader's attitudes, beliefs, and behavior.
"Her second place showing was a result of a presentation that was flawless and compelling. The audience was captivated by her performance, and I was so proud she represented our institution, said Dr. Karen Coats, dean of Graduate School at Southern Miss.
Coats points out that Southern Miss started the Three-Minute Thesis two years ago as a professional development opportunity to strengthen communication skills.
"It is now an annual event on our campus with overwhelming participation by master's and doctoral students from a wide array of disciplines," said Coats.
"I highly suggest that all graduate students participate in next year's 3MTÒ competition because it is an excellent way to improve your own understanding and communication of your project, and the competition as a whole is an excellent way to practice speaking across disciplines, something that is undeniably helpful with professionalization," said Tharp.
To learn more about the 2016 3MTÒ competition visit www.usm.edu/graduate-school.