Student Alumni Association: The Tradition Continues for the Student Chapter of the Southern Miss Alumni Association
Wed, 09/28/2016 - 14:54pm | By: Nicole Ruhnke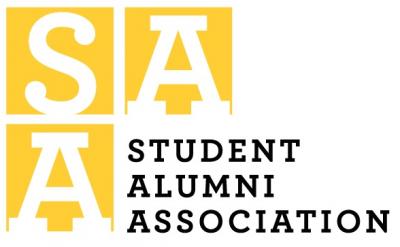 Following several months of research and leadership input, the student chapter of the Alumni Association has been renamed as the Student Alumni Association, or SAA. Formerly known as The Legacy, this student organization serves as the campus leader in promoting spirit and enthusiasm and proudly considers themselves the "keepers of tradition" at Southern Miss.
"I am very proud of the final product of our rebranding process for the Student Alumni Association," said Lauren Richards, manager of constituent relations for the Alumni Association and advisor for the SAA. "From the initial discussions until now, the student leadership of this organization has rallied around the rebranding process and worked very hard to bring about a successful campaign for recruiting new members in the 2016-17 year."
The new logo and graphics for the SAA were created by Rise Creative, a student-led graphic design agency at the University.
During the organization's membership drive at the start of the fall semester, more than 500 freshmen joined, raising the total number of student-members to nearly 1,000 members and making the SAA one of the largest student organizations on campus.
"As a member of the Student Alumni Association for four years, I am proud of the success we have seen through our membership drive," said SAA President Autumn Sobel. "We have recruited quality students who want to actively preserve the history and traditions of Southern Miss while maximizing the opportunities to network with USM Alumni."
The SAA has several events scheduled for the fall, including the annual Haunted Campus Tour on Thursday, Oct. 13. Beginning at 6:30 p.m. at the Ogletree House, participants can learn about University history, legends and a few mysteries while enjoying a haunted tour through several buildings on campus.
On Thursday, Nov. 17, the SAA will host Dinner with a Dozen Eagles, which provides students the opportunity to meet and mingle with successful alumni. The event will begin at 6:30 p.m. at the Ogletree House on the Hattiesburg campus.
Membership in the Student Alumni Association is $20 per year and is available for all USM students. For more information on the Student Alumni Association, visit SouthernMissAlumni.com/SAA or email USMSAAFREEMississippi.