TRIAD Service AmeriCorps Receives Continued Funding for Health Education Program
Tue, 11/29/2016 - 11:30am | By: Jerry Alliston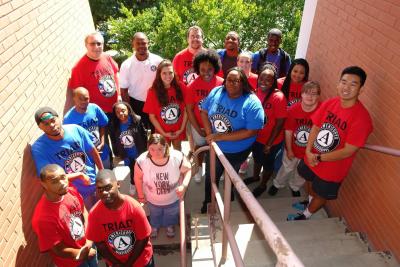 TRIAD Service AmeriCorps members at USM.
How can teens be encouraged to stay healthy? One answer is to let other young people lead the way.
Since 2014, TRIAD Service AmeriCorps members have educated more than 765 middle and high school students with disabilities in the greater Hattiesburg area community and the greater Long Beach area community on how to be healthier. With new funding from Volunteer Mississippi, TRIAD members will continue to provide health education through 2017.
TRIAD, which stands for Training, Resources and Information for the Advancement of Disability, is a project of The University of Southern Mississippi Institute for Disability Studies (IDS). TRIAD is an inclusive AmeriCorps program that currently has 28 members serving and has openings for another eight members. Members are young adults with and without disabilities, including some Southern Miss students.
"We at IDS are so proud of what these young adults are accomplishing through their service," said Dr. Jerry R. Alliston, community education director for IDS. "Providing service to others gives everyone purpose. This program looks at everyone's abilities and gives everyone the opportunity to make a difference in their community."
TRIAD AmeriCorps members have partnered with school districts to train youth with disabilities on health education and nutrition using the HealthMatters curriculum. This program promotes practical exercise routines, a well-balanced diet, and self-advocacy skills to promote good choices in staying healthy. It also incorporates the principles of choice, self-determination, self-efficacy, self-advocacy, rights, and responsibilities.
Depending on their positions, the current 38 TRIAD AmeriCorps members work in the community 25 to 40 hours a week. Members are either full-time, half-time or minimal time. All members receive an educational stipend for their services, and full and half-time members receive a living allowance as well.
Current openings are for minimal time positions which does include a $ 1,230 educational stipend upon completion of all service hours at the end of the service year.
For more information about TRIAD Service AmeriCorps, contact the Hattiesburg Campus Program Specialist Sylvester Crosby at sylvester.crosbyFREEMississippi or the Gulf Park Program Specialist Devin Bellman at devin.bellmanFREEMississippi.
The Institute for Disability Studies (IDS) has been located at Southern Miss for 40 years and has satellite offices on the Southern Miss Gulf Park campus in Long Beach and in Jackson. IDS provides pre-service training, community services and technical assistance programs for individuals with disabilities of all ages and their families. IDS' areas of emphasis include education and early intervention, housing, health, recreation and assistive technology. For more information about IDS, visit www.usm.edu/disability-studies.