University of Southern Mississippi Named to Best Online Masters Degree List for 2016
Tue, 12/20/2016 - 10:02am | By: Vanessa Molden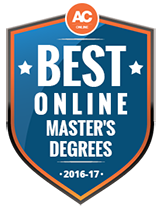 The University of Southern Mississippi has been recognized by Affordable College Online as one of the Best Online Master's Degrees for 2016. Southern Miss earned the sixth position on the list among thousands of U.S. colleges with online master's degree options.
"We wanted to highlight the schools that are setting a high standard for online programs," said Dan Schuessler, CEO and Founder of Affordable Colleges Online, "It is important to honor these universities who are going above and beyond the standard for online learning."
Only public, not-for-profit institutions were eligible for the ranking. The primary data points used to identify the Best Online Master's Degrees of 2016 include the following:
In-state tuition and fees
Percent of full-time undergraduate students receiving institutional financial aid
Number of online programs offered
Student-to-teacher ratio
Kati Collins, of Geilenkirchen, Germany, is currently enrolled in the online Child and Family Studies master's (CFSMS) program.
"I chose CFSMS for the flexibility of the program and the diversity of the curriculum," said Collins. "It has been an amazing experience, and being able to take what I have learned throughout the program and apply it to everyday life (even in a different culture) is truly amazing."
Southern Miss offers more than 20 online master's degree in business, education, music, nursing and health related fields. To learn more about online master's degrees offered go to https://online.usm.edu/programs
AffordableCollegesOnline.org has distinguished its ranking scale by using a Peer-Based Value metric, or PBV. A "bang for your buck" metrics, the PBV compares the cost of a program to the cost of other programs with the same (or a similar) qualitative score. It also compares the qualitative score of the program to the score of other programs with the same (or a similar cost).
A complete list of rankings can be found http://www.affordablecollegesonline.org/degrees/masters-programs.
About AffordableCollegesOnline.org
Since 2011, AffordableCollegesOnline.org (http://www.affordablecollegesonline.org/) has been a leader in providing quality data and information about pursuing an affordable higher education. They feature higher education institutions that have developed online learning environments that include highly trained faculty, new technology and resources, and online support services to help students achieve educational and career success.