USM Launches Faculty Development Program to Aid in Student Success
Thu, 10/20/2016 - 09:01am | By: Van Arnold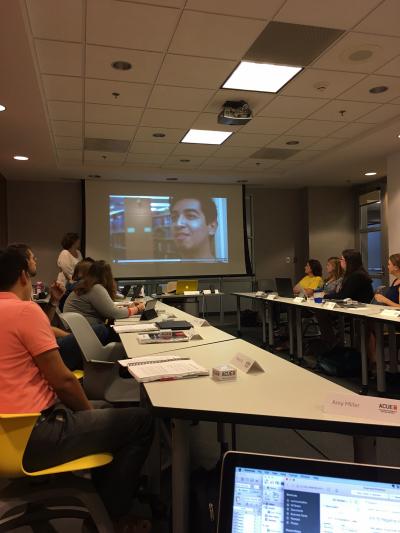 Members of the USM faculty watch a video as part of their participation in the ACUE Faculty Development Institute. (Submitted photo)
Select faculty at The University of Southern Mississippi are currently participating in a national development initiative designed to dramatically expand the use of evidence-based teaching practices shown to promote college student completion and success.
The ACUE (Association of College and University Educators) Faculty Development Institute at USM launched in September, enabling educators to learn, hone, and practice the teaching strategies shown to foster students' success in classrooms across the country without compromising rigor.
As part of USM's intensive, eight-week program faculty are engaged in a subset of ACUE's Course in Effective Teaching Practices, which focuses on research-based techniques for promoting active learning, increasing student persistence, delivering an effective lecture, and facilitating engaging class discussions.
Dr. Amy C. Miller, Vice Provost for Academic Affairs at USM, notes that emphasis was placed on ensuring that all University campuses and colleges were represented among the participants.
"We wanted to create an environment so that conversations would give faculty who don't frequently interact space to talk about their teaching experiences, ideas, and reactions to what they were learning," said Miller.
The University cohort is implementing an innovative hybrid model as they progress through the course. Online, faculty members read material, watch research-based "Technique Talks," observe classroom demonstration videos, and collaborate in an online discussion board.
The faculty then try out the teaching strategy topic of the week in their actual classes and write reflection essays – which are scored – about their experiences. Each Friday, the cohort meets for 90 minutes to discuss the lessons for that week and how the strategies addressed online could be implemented at USM to improve student performance.
Miller said the program began with an initial call for applicants in July. From that pool, 30 faculty members were selected for the program based upon specific criteria.
"Priority was given to faculty members who were part of our Quality Enhancement Program Gateway committees and/or taught one of those five courses," said Miller. "After that, the remaining participants were selected based on factors such as the courses they teach, breadth of impact on students, their department, and/or their community, and their interest as expressed in the application."
Dr. Max Grivno, associate professor of history, says the program is providing new insights for teaching his History 101 and 102 classes, which have been designated as historically difficult courses by the University.
"In order to help our students succeed in the foundational courses, it is essential that the faculty learn new pedagogies that can help spark students' interest in the material and provide opportunities for them to develop the skills they need to succeed – both in these courses and across the curriculum," said Grivno.
Linda Hanson, chemistry instructor at the Gulf Park campus in Long Beach, has spent the past 33 years as an educator, including the last three at USM. She says that the benefits of participating in the ACUE Institute cannot be overstated.
"This opportunity allows me to collaborate with my peers and exchange ideas regarding best practices in the classroom," said Hanson. "I always learn from my peers through discussion and collaboration. I am mentoring a new instructor this year, and this program allows us to discuss instructional strategies that work within a framework that challenges us both to grow."
The American Council on Education (ACE), as part of its nearly century-old mission to improve access to postsecondary education and help institutions enhance student outcomes, is collaborating with ACUE to dramatically expand the use of effective teaching practices in higher education. Faculty members who complete the program also earn badges and a Certificate in Effective College Instruction endorsed by ACE.
"ACUE's program offers higher education institutions a scalable, extensive opportunity to support instructors through tools and techniques proven to help students succeed," said ACE President Molly Corbett Broad. "ACE and ACUE have an important shared goal to expand dramatically the use of effective teaching practices to benefit students, faculty, and institutions."
ACUE's comprehensive services also include exclusive access to an online Community of Professional Practice designed to sustain development and connect educators from around the country. Faculty members who complete the program also earn badges and a Certificate in Effective College Instruction endorsed by ACE.
"Educators in the ACUE Faculty Development Institute at USM are growing a strong culture for teaching and learning and that's what the Course in Effective Teaching Practices is designed to do," said Penny MacCormack, Chief Academic Officer at ACUE. "We are honored to partner with The University of Southern Mississippi as they work to provide the highest quality learning experience for students."
And Miller is quick to note that providing the highest quality learning experience is greatly enhanced when faculty are equipped with tools and strategies to help them excel.
"Faculty members play an essential, core role in the success of our University," said Miller. "They teach and advise our students, conduct research, make scholarly and artistic contributions to existing bodies of knowledge, and serve our communities both on and off campus. Support of faculty engagement and success is crucial to give our faculty members the tools to do their work well and thrive as members of our community."
About ACUE
ACUE partners with colleges and universities to make effective instruction central to their student success agendas. Founded by leaders in higher education, ACUE fulfills this mission by helping institutions implement faculty development resources that are scalable, research-based, and of the highest quality. ACUE's online modular course of study leads to a first-of-its-kind Certificate in Effective College Instruction endorsed by the American Council on Education. For more information, visit www.acue.org.