Ailrick Young, Former USM quarterback, Retires from Mississippi Guard after 29 years
Wed, 12/13/2017 - 09:01am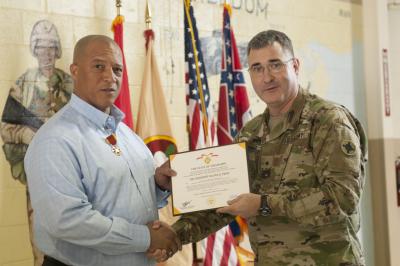 Former USM quarterback Ailrick Young, left, receives a special commendation upon his retirement from the Mississippi Army National Guard.
Ailrick Young, Sr., ('89) a former USM quarterback who heeded the advice from then-Capt. Jeff Hammond to join Army ROTC while a student-athlete, retired recently from the Mississippi Army National Guard after 29 years.
Young, a lieutenant colonel who specialized as a logistician in the Mississippi Guard, was honored at a retirement ceremony Dec. 3, 2017, hosted at the 184thExpeditionary Sustainment Command armory in Hattiesburg where family and friends gathered. Young deployed twice in support of the wars in Iraq and Afghanistan with the unit, where he was awarded the Bronze Star.
Brig. Gen. Clint Walker, ('91), the commanding general of the 184th who served with Young at various points in their careers, hosted the event.
"I just signed up to do the required four years," said Young, who now serves as the executive director of the Housing Authority for the City of Laurel. "But it afforded me the opportunities for professional training, leadership and benefits for my family."
Young said he initially scoffed when Hammond, who also had been a quarterback at USM, urged him to join the ROTC program. But he thought it would be a good idea for life after football, and simultaneously started his career in the Mississippi Army Guard. Young said he took playful ribbing that came from fellow teammates when he wore his uniform on Wednesdays.
"I am honored and humbled to have served in this unit, the Mississippi Army National Guard and my country," he said. "As I look back at nearly 30 years, in the end, it all worked out the way it was supposed to."