Childrens Center Assistant Director Selected for 2017 Leadership Pinebelt Class
Thu, 03/02/2017 - 11:07am | By: Samantha McCain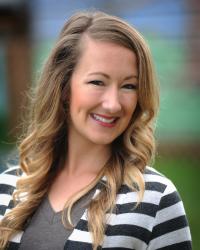 Sarah Myers
Sarah Myers, M.S., CCC-SLP, assistant director for The Children's Center for Communication and Development at The University of Southern Mississippi was recently selected for the Area Development Partnership's 2017 Leadership Pinebelt class.
Leadership Pinebelt was established in 1989 to train emerging and existing leaders in the Greater Hattiesburg Area. It is comprised of a diverse network of leaders and community volunteers who are committed to shaping our community both economically and socially while building and shaping their own networks.
"I am honored to have been selected for this year's class. I am very passionate about the job I get to do and for the community I get to do it in," said Myers. "As a life-long Hattiesburg resident, I'm looking forward to seeing how this program increases my awareness for industries outside of my own and how it adds to my professional growth."
Myers is a speech-language pathologist and was recently promoted to assistant director. Her role includes providing direct services and comprehensive developmental assessments of infants, toddlers and preschoolers with complex communication and developmental disabilities. Other duties also include professional development for the Center's staff and clinical enrollment.
"We are proud of Sarah's selection for this program. As an alumni, I know how beneficial it is for personal and professional growth and I look forward to seeing the impact her class has on our community, said Sarah Case-Price, the Center's director.
This year's class will spend eight months focusing on enhancing leadership skills and garnering a better understanding of the Hattiesburg area in the realm of health care, cultural arts, economic development, military and regional industry. After completion of the program, the class will graduate in October.