DeMott Named Technology Manager at USMs Office of Technology Development
Fri, 01/06/2017 - 10:20am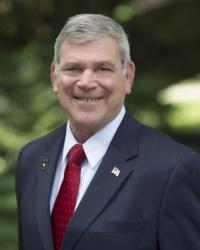 Dan DeMott
Dan DeMott has been named the new technology manager of The University of Southern Mississippi's Office of Technology Development funded through the Department of Defenses (DoD) Office of Economic Adjustment National Security Technology Acceleration and Economic Diversification Efforts for the State of Mississippi initiative.
DeMott will be transitioning over from his role as Director of Training and Instructional Design at USM's National Center for Spectator Sports Safety and Security (NCS4) where he has been since 2014.
His new primary responsibility will be managing and triaging technologies and discoveries that emerge or interface with USM's research enterprise, specifically in defense related and dual-use technologies. DeMott will serve as the technology manager for a DoD initiative to develop a national platform that facilitates the transition of defense technology to commercial usage. In addition, he will be the lead on developing the New Hacking 4 Defense curriculum ("H4Di") that is targeted to be launched in the summer of 2017.
"Dan has successfully worked with industry contacts and subject-matter experts from a wide variety of fields," said Chase Kasper, Assistant Vice President for Research, Technology Transfer & Corporate Relations. "His addition to the staff will be a real asset to the program, and help us take potential innovations out into the marketplace."
Previously, DeMott served as a Training Manager and Instructor at Texas A&M Engineering Extension Services. He was responsible for the delivery of incident management, sports, and special events courses, while serving as the Lead Developer for the NERRTC Emergency Operations Center Course and Lead Instructor.
Additionally, he led the development team for the Texas Elected Officials Preparedness Course and researched, developed, updated, and delivered additional course materials and exercise scenario for the Multi Agency Coordination Course for the Texas Department of Emergency Management. He also represented the organization as a Subject Matter Expert for many projects for training and exercise development of Homeland Security training and other emergency operations throughout the nation.
DeMott has served this nation in one capacity or another over the last 35 years in planning, training, and exercises. He is a retired service member of the United States Army where he served honorably for 20 years in the Explosive Ordnance Disposal (EOD) field as an EOD Technician and Operations Officer. During his service in various positions, he had responded to Events of National Significance, Terrorism, and other Improvised Explosive Devices throughout the United States.
DeMott developed and instructed training at the international level for Anti-Terrorism, Bomb Threat and Search, and Improvised Explosive Device (IED) detection, render safe, and disposal in the United Kingdom, South Korea, West Germany, Canada, Japan, and others. He was the lead Military Liaison for the Department of Defense (DOD) IED response planning for the 2002 Winter Olympics, Salt Lake City, Utah.