DiCamillo Receives Southern Miss Medallion at 50th annual Fay B. Kaigler Childrens Book Festival
Mon, 04/10/2017 - 01:01pm | By: David Tisdale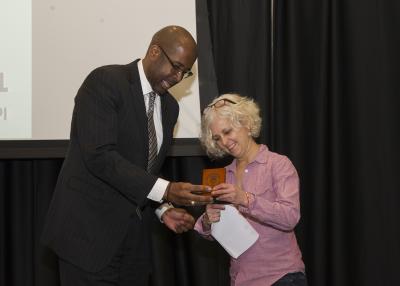 Southern Miss President Rodney D. Bennett presents Kate DiCamillo with the Southern Miss Medallion at the 50th annual Fay B. Kaigler Children's Book Festival (USM photo by Kelly Dunn).
For 17 years, Kate DiCamillo has written books for children – a fact brought home to her when a sales associate helping her with a recent computer purchase was thrilled to learn her customer wrote one of her favorite childhood books, The Tale of Despereaux.
"Now, there are adults who grew up reading my books. That's just amazing to me," DiCamillo said.
DiCamillo was the recipient of the Southern Miss Medallion at the 50th annual Fay B. Kaigler Children's Book Festival at the University of Southern Mississippi, held April 5-7 on the Hattiesburg campus. The winner of two Newberry Medals and a finalist for the National Book Award for Young People's Literature, DiCamillo has had 12 titles make the New York Times bestselling list. She's arguably best-known for her book Because of Winn-Dixie, which was made into a successful feature film.
But even after reaching the mountaintop in the literary genre, she remains humbled by and grateful for the success she's achieved, which now includes the festival's top recognition for outstanding contributions in the field.
"When I received my (book festival) welcome packet, there's my face on the picture of the medallion, and then under it is the list of past recipients whose work I read when I was growing up," Di Camillo said. "So it's surreal."
Sharon Davis, head librarian for the city of Biloxi's public library and a graduate of USM's School of Library and Information Science, has seen many children moved by DiCamillo's works. "She really has a way of connecting with young minds," Davis said, noting that Because of Winn-Dixie continues as a 'go-to' book among younger visitors to her library.
Davis also praised the festival as "one of the few opportunities people in our area can make real connections with children's authors and illustrators."
DiCamillo had been eagerly anticipating the event as it was also an opportunity to meet some of its other guest authors and illustrators – "my heroes" – including keynote speaker Kwame Alexander (The Crossover); de Grummond Children's Literature Lecturer Phyllis Naylor (Shiloh); and Ezra Jack Keats Lecturer Andrea Pinckney (Hand in Hand).
Meeting with Hattiesburg-area fourth grade students at Bennett Auditorium during her first day at USM, DiCamillo discussed her career and highlights from The Tale of Despereaux, which students received copies of earlier this year and read in advance of their visit with the author.
Thames Elementary School student Jakayla Hill said she enjoyed reading The Tale of Despereaux, but admitted she liked Because of Winn-Dixie best among DiCamillo's work. Because of Winn-Dixie takes place in DiCamillo's former home state of Florida, and is the story of a lonely young girl, Opal, who adopts a dog she finds running wild through a local Winn-Dixie grocery store. The chance encounter with the mutt, which she names after the store, leads to a unification of the townspeople and heals Opal's fractured relationship with her father.
At one point in the story, Opal is unable to locate Winn-Dixie but discovers him hiding in a friend's home from storms moving through the town. "I like the way she (Opal) thought he (Winn-Dixie) was gone, but then found him," Hill said.
DiCamillo said she was impressed by the inquisitiveness of the students, reinforcing her belief that reading is still a popular activity among young people. "I hear people say they're worried about kids not reading books, but I'm not seeing that," she said.
As she took time to meet each student after the session – including for a few autographs and photos - DiCamillo saw a little bit of herself in each.
"I'm a real introvert, but then I see these kids and I know I need to be here, to connect with them," she said. "I looked into their faces and thought 'I know you - you're that same shy, afraid kid I once was.'"
For information about the Fay B. Kaigler Children's Book Festival and its history, including the Ezra Jack Keats Book Awards Ceremony held in conjunction with the annual event, visit http://www.usm.edu/childrens-book-festival.