Eleven Interns Graduate from Project SEARCH Southern Miss Program
Wed, 05/31/2017 - 09:26am | By: Jerry Alliston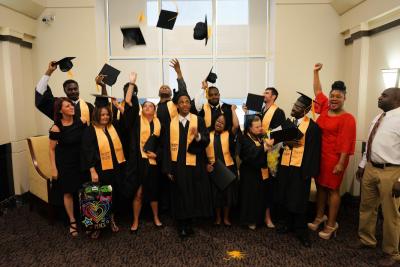 Graduates from the Project SEARCH Southern Miss program toss their caps into the air following commencement ceremonies held earlier this month. (Submitted photo)
The words of Walt Disney, "All of our dreams can come true if we have the courage to pursue them" were featured on the second annual Project SEARCH Southern Miss Class of 2017 graduation invitation.
Eleven interns -- six Hattiesburg High School students and five young adults from the community -- participated in Project SEARCH for the 2016-2017 high school year. These youth and young adults took part in daily employment training and completed three work internships, all at The University of Southern Mississippi's Hattiesburg campus.
The Project SEARCH program was originally developed at Cincinnati Children's Hospital Medical Center in 1996 to offer employment opportunities for people with developmental disabilities in a medical setting. The Institute for Disability Studies (IDS) at USM received a grant through the Mississippi Council on Developmental Disabilities in 2014 to plan and implement Mississippi's first program, making Project SEARCH Southern Miss a reality.
"This second year of Project SEARCH Southern Miss was like another pilot year as we continued to have high school students enrolled in special education services and then expanded with community-based adults with disabilities, all who needed and wanted employment-focused opportunities," said Dr. Jerry R. Alliston, community education director at IDS. "We learned a lot from our first year of SEARCH and were able to provide much more services, internships and supports this year."
The goal of Project SEARCH Southern Miss is to increase the number of young adults with intellectual, cognitive and other developmental disabilities to obtain competitive, community-based employment. Project SEARCH is a 10-month training program that consists of daily employment preparatory skills training, community development, mentoring services and work internships.
The training program allows participants to work on employability and functional skills in the following areas: team building, getting around the workplace, workplace safety, technology, social skills, communication, presentation skills and interviewing skills.
Project SEARCH continued through collaboration with strong Hattiesburg community partners. USM serves as the host business and provides for various internships sites. The Hattiesburg Public School District provides a full-time teacher and the Mississippi Department of Rehabilitation Services supplies two job coaches. In addition, all interns are recommended to apply for Mississippi Division of Medicaid Waiver Services for long-term support.
For the 2016-2017 year, the 11 interns have already achieved success. On May 15, all fully completed the Project SEARCH requirements and participated in a graduation ceremony at the Thad Cochran Center. Six interns have secured community-based employment with two more interns securing positions that start in August.
All interns have wored with SEARCH staff, especially their job coaches, in applying and internviewing for employment. Several interns will participate in summer services to continue skill development, participate in community service and interview and apply for integreated, community employment poitionss.
For more information on Project SEARCH Southern Miss, contact Project SEARCH Coordinator Jin Joo Crosby at 601.266.6037. To learn more about the Institute for Disability Studies, call 601.266.5163 or visit: http://www.usm.edu/disability-studies.
The coordination and development of the Project SEARCH Southern Miss Program is funded through a grant from the Mississippi Council on Developmental Disabilities.