First Southern Bank Continues Commitment to Scholarship at Southern Miss
Wed, 05/17/2017 - 08:50am | By: Karelia Pitts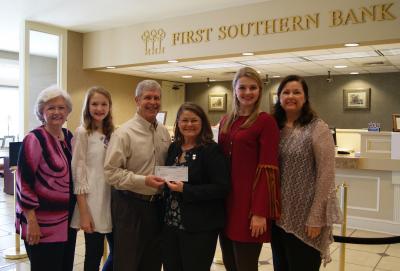 Newton Blount, president and CEO of First Southern Bank, and members of the Morris family present $10,000 check to Stace Mercier, executive director of the USM Foundation.
For more than a decade, First Southern Bank of Columbia, Miss., has faithfully invested in scholarship at The University of Southern Mississippi, enabling many Golden Eagles to pursue their academic dreams within the College of Business. Their commitment continues through a recent gift of $10,000.
In 2006, First Southern Bank created the First Southern Bank Scholarship Endowment in Memory of Jack Morris and Mattie Morris, who were majority stockholders in the Bank. This scholarship endowment provides financial assistance to freshman banking and finance majors in the College of Business, with preference given to students from Marion, Lamar, Forrest, Pearl River and Perry Counties.
"We greatly appreciate the commitment First Southern Bank has made to help students from across the Pine Belt pursue their passions through studying at Southern Miss," said Stace Mercier, executive director of the USM Foundation. "Their dedication over the years exemplifies the impact donors make in the lives of our students."
To date, First Southern Bank has contributed over $53,000 to support student success through scholarships at Southern Miss. Over the past decade, these gifts have steadily grown their scholarship endowment corpus, providing recipients with substantial assistance as they pursue their academic goals.
Through the generous support of donors like First Southern Bank, Southern Miss is able to continue offering students from around the globe, all regions of the United States and every corner of Mississippi with a life-changing educational experience. To learn more about establishing a scholarship endowment at The University of Southern Mississippi, call 601.266.5210 or visit usmfoundation.com/endowments.