Hub City Mayor, Councilmen Passionate about USM Connections
Tue, 11/21/2017 - 10:37am | By: Jim Coll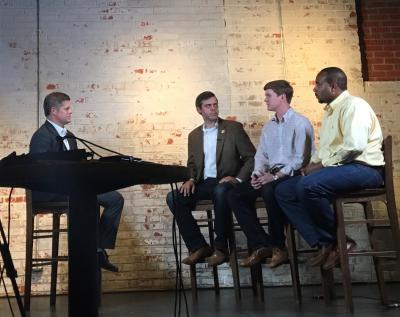 USM Chief Communication Officer Jim Coll, left, interviews from left to right: Hattiesburg Mayor Toby Barker, Hattiesburg Councilman Jeffrey George, and Hattiesburg Councilman Nicholas Brown.
Did you know that The University of Southern Mississippi (USM) has an annual economic impact on the State of Mississippi of more than 600 million dollars? Not only is the University one of the area's largest employers, but USM's arts and athletic events attract thousands of visitors to the region. USM's research enterprise brings the best and brightest from all over the world to south Mississippi, where faculty and students make discoveries every day that improve lives in the state, region, and country.
Although those impacts extend well beyond the Hub City and the Mississippi Gulf Coast, USM is most influential close to home. And in July, three men who are passionate not only about the City of Hattiesburg, but also The University of Southern Mississippi, took office in the Hub City. Together, Mayor Toby Barker, and new councilmembers Jeffrey George and Nicholas Brown, are ushering in a change in leadership, and they hope, mindset in the Hub City. They are all Southern Miss alumni, and all are new to their roles in city government. They know Hattiesburg. They know USM. And they all have ideas on how best to move the Hub City and its biggest economic and cultural influence forward into the future.
"Hattiesburg and Southern Miss have such incredible stories to tell," said Barker, who earned both bachelor's and master's degrees from USM. "From the role that the University plays, to the talented people who are here, to those who have created and love their community. For so long that story has been overshadowed by competing political demands. Now I think we have a council where we may disagree on some issues, those issues are few and far between. Everyone is optimisitic and believes in our potential."
Potential for a city with a past, present and future closely tied to The University of Southern Mississippi.
"Hattiesburg always has something to do," Barker said. "There's always someone new to meet. There's always something new to experience. I think that's a biproduct of having a university here like Southern Miss, and so much of the talent that comes from the university."
Brown is a lifelong resident of Hattiesburg who graduated from USM in 2004.
"My dad, who is also a USM alum, would take me to ballgames as a young person," Brown said. "I've seen how large campus has grown from when I was a young kid.
"I think Southern Miss is the backbone of Hattiesburg. We want students, when they get done, to reside in Hattiesburg. We want them to buy a home and to live here. I think without the University, the city would not be what it is. I've watched the University grow, and I've watched the city grow. And I see a lot more potential. I like the way things are going and where we're headed."
George is a former two-term president of the Student Government Association, who represents Ward 1, which includes the University's Hattiesburg campus.
"Students are excited to see the things that are happening not only on our campus but in interaction with the city," George said. "We have Southern Miss here, and it's bringing in so many incredible students, but how can we find ways to keep them here and become a part of the Hattiesburg community? That has to start their freshman year. Having a city and city officials who are Southern Miss alumni and willing to work together with the University to show the University students that we want them to be a part of this Hattiesburg story. That's going to be a major part of what we continue to try to do as a council and with the administration."
All three men point to their Southern Miss experience as instrumental in their development as people and as public servants.
"A handful of people took me under their wing and invested time and life lessons in me," George said. "They taught me the importance of doing that for others. I think that was a huge thing I took away from my experience at Southern Miss—how important people are. That's something that I think we value so much at Southern Miss—it's about people. What is their story and how is our University going to impact their story."
"I just really enjoyed Southern Miss. The Southern Miss experience matured me," added Brown, pointing to longtime USM Dean of Students Dr. Eddie Holloway, a former city councilmember, as a mentor. "Southern Miss helped me grow as a person and in business. And it's good to know that we can still go back to these mentors if we need them for guidance or reassurance."
Along with returning councilmembers, Deborah Delgado, Carter Carroll and Mary Dryden, Barker, George and Brown are confident that a new course is being set for city officials and for the city of Hattiesburg, a direction that includes increased collaboration, communication and collegiality.
"You now have three millennials—two in the council office and one in the mayor's office," Barker said. "And I think true collaboration is a hallmark of our generation. We are trying to learn from each other, and to work together. I want what's best for Ward 5 like I want what's best for Ward 1, and we approach government that way.
"I think we bring a better more positive product of government in a time where people aren't really believing in their government institutions," he added. "So our goal is to demonstrate how government can work—even if there's gridlock at the state capital or gridlock in Washington—and really try to bring transparency and authenticity to leadership at the local level."
Brown said this approach helps to reassure Hattiesburg residents the council and mayor are working in their best interests.
"We want to ensure the people know we're working for them; they're the ones who put us in office," he said. "We always have to make sure that the people understand that we're there working for them. Things are not always going to work the way they want them to work, but we're going to try and work hard to do what we can."
Hard work comes naturally to USM and Hattiesburg, according to its mayor.
"Southern Miss is the kind of institution, and Hattiesburg is the kind of city, that has had to earn everything they've ever received," Barker said. "If you look at just the history of Southern Miss, no one wanted us here in the first place. It was a very narrow vote to even create the University. There was no appropriation tied to when the University was created in 1910. Since it opened its doors in September of 1912. Every person who walks across the stage at Southern Miss should know just like their University earned everything with grit and determination and character, we should embody that character as we go on throughout our lives. We should take on that Southern Miss spirit, and that means we try harder every time whether we have to or not. We have a little bit of a chip on our shoulder everywhere we go, but we behave ourselves and conduct ourselves with a certain grace that a Southern Miss person would do. I think that's the Hattiesburg way and the Southern Miss way. It's being willing to work a little harder, try a little more, go the extra mile every time. That's what I want to see our city do."