James T. Fox Receives Inaugural Innovation in Online Teaching Award
Wed, 05/24/2017 - 01:11pm | By: Tara Burcham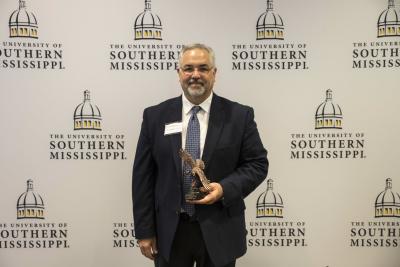 Dr. James T. Fox is the winner of the inaugural Innovation in Online Teaching award.
It has been one year since The University of Southern Mississippi took steps to meet the growing needs of its online students with the establishment of a new Office of Online Learning. Since then, the University has been named to many "best-of" lists for bringing academic excellence to online students.
One of the biggest reasons the university is so successful is faculty commitment. That is why the Office of Online Learning created the Innovation in Online Teaching award to recognize the dedication of their faculty.
James T. Fox, assistant professor in the Department of Educational Research and Administration, is the inaugural recipient of the award that recognizes a Southern Miss faculty member who uses online learning technology effectively and designs innovative and engaging online coursework that incorporates best practices.
Fox's nominator, Dr. Ann E. Blankenship, says Fox goes to great lengths to ensure that his students get the best learning experience possible. "He investigates new techniques, is creative and flexible, and always keeps student engagement at the heart of his teaching, regardless of the format," she says.
Director of the Office of Online Learning, Dr. Tom Hutchinson, says this award is important because it highlights the efforts faculty members put into making online classes engaging and collaborative. "Dr. Fox creates numerous learning activities that maximize interactions between students and their peers," said Hutchinson. "He is a model faculty member dedicated to making his online classes ones that students find interesting."
Fox works to keep his online classes personal, "I am a teacher who will never allow an online setting to de-humanize the online learning experience," said Fox. "I still believe that teacher-student and student-student interaction is critical in the learning process." Fox is also always looking for ways to enhance human interaction in his online classes. "I have really come to enjoy the platform and I get the sense that my students enjoy my classes as well," he says.
Student evaluations include calling Fox a "wonderful instructor that really cares about the content and the students." One student even stated, "Dr. Fox was an exceptional teacher. I do believe that though his class stretched me, I was able to pull out my very best as a result."
Hutchinson says Fox is part of the faculty, staff, and administration who are working to bring high quality programs to students, and he is proud to recognize him with this award.
Online at Southern Miss offers academically rigorous, quality online degree programs that include support for students, even though they are not physically on campus. Fully online students can access numerous student success initiatives from online appointments with the Writing and Speaking Centers to 24/7 learning management system support.
The University of Southern Mississippi offers nine undergraduate degrees and twenty-one graduate programs fully online. To learn more about the online programs at Southern Miss, visit https://online.usm.edu/.