Joint University Forum, Dale Center Program to feature Acclaimed War Correspondent and Filmmakers Analysis of Culture and Conflict
Tue, 04/04/2017 - 16:35pm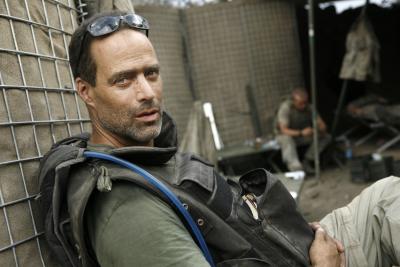 Award-winning war correspondent and documentary filmmaker Sebastian Junger will be the featured guest at The University of Southern Mississippi on Tuesday, April 11 at 6:30 p.m. in Bennett Auditorium on the Hattiesburg campus. The event featuring guest speaker Junger is a collaborative initiative of the 2016-17 University Forum series and the Dale Center for the Study of War and Society's 2016-2017 McCarthy Lecture Series.
An award-winning journalist and bestselling author with more than 20 years of international reporting experience, Junger covered the war in Afghanistan in 2001 for ABC News and Vanity Fair. His book, WAR, a New York Times bestseller, and documentary, Restrepo, detail Junger's year as an embedded reporter with U.S. forces in Afghanistan and tell the story of the conflict from soldiers' perspectives. Restrepo was nominated for an Academy Award for Best Documentary in 2010 and won the 2010 Grand Jury Prize at the Sundance Film Festival. Junger's subsequent documentary, Korengal, examines the psychological effects of both deployment and coming home on servicemen and women.
In addition to his work on the war in Afghanistan, Junger has also reported on human rights abuses in Sierra Leone, war crimes in Kosovo, the United Nations peacekeeping mission in Cyprus, hostages in Kashmir and many other war-related situations throughout the world.
"We are excited to feature Sebastian Junger as the Dale Center's 2016-2017 McCarthy Lecturer," said Dale Center Co-Director, Susannah J. Ural. "His skillful analysis of culture and conflict, and his gift for communicating these ideas with broad audiences, reflects the central goals of the Dale Center. We are very much looking forward to the evening."
Junger's most recent book, Tribe: On Homecoming and Belonging, analyzes the experiences of war veterans returning home to a divided America. He will discuss Tribe and more in his University Forum lecture, which is free and open to the public.
University Forum is presented by the Southern Miss Honors College. For more information on this event, email forumFREEMississippi.