McNair Scholars Program at USM Awarded Five-Year Renewal
Wed, 11/08/2017 - 09:51am | By: Van Arnold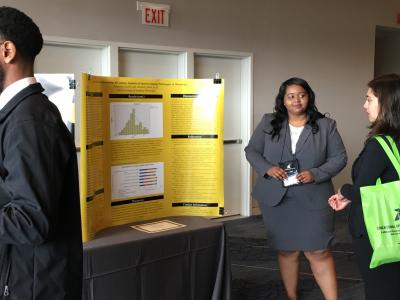 USM McNair Scholar Kimberly Grubbs is shown at her poster presentation during the 26th Annual McNair Conference.
For the past 17 years, approximately 425 graduate students have benefitted from the prestigious McNair Scholars Program at The University of Southern Mississippi. A recent five-year grant renewal worth $1.16 million ensures that those benefits will keep coming for students who might otherwise miss post-graduate opportunities.
USM program Director Carolyn Cawthon points out that the McNair grant competition is highly competitive with the U.S. Department of Education having received 309 eligible applications for the upcoming five-year funding band. USM was among the 161 schools selected, enabling the University to move forward with selecting its 17th McNair cohort.
"This allows us to carry on the McNair mission of supporting higher-education aspirations for first-generation college students from low-income backgrounds, as well as students who are underrepresented in graduate education," said Cawthon. "Kimbaya Brown, assistant director of the program, and I were privileged to have the support and assistance of our faculty mentors, University offices, the McNair graduate assistants, and the Graduate School staff in putting together a successful grant proposal."
At Southern Miss, McNair Scholars receive a $2,800 stipend to participate in the program where they engage in original research under the mentorship of Southern Miss faculty advisors and graduate students.
Students also receive up to a $1,400 summer housing allowance when accepted into the program along with tuition at the Summer Research Institute. At the conclusion of the summer, all McNair Scholars take the Graduate Record Examination (GRE), the cost of which is included in the Summer Research Institute.
Brown oversees the day-to-day operation of the program, while maintaining constant contact with the scholars to ensure their academic success. She stresses that the program's serves a student population that doesn't necessarily always possess the tools needed to excel on the college level.
"It provides them with opportunities, resources and tools as undergraduates that are invaluable to their success in graduate school," said Brown. "Many of these opportunities are not afforded to the majority of undergraduates, so this is definitely a program that students should take advantage of if they are seriously considering a graduate degree. And specifically a Ph.D."
In the fall, McNair Scholars present their research findings to peers and faculty at a local symposium and most publish their work in the program's journal. Also in the fall, McNair Scholars become eligible for additional funding to present their research at national scholarly conferences and to visit prospective graduate school programs across the U.S.
University of Southern Mississippi graduate student Mary Travis is convinced that her experience as a 2016 McNair Scholar has provided the catalyst she needs to complete her post-graduate education. A native of El Cajon, Calif., Davis is currently working toward her master's degree with a long-term goal of earning a doctorate in geography. A member of the Honors College, Travis received her undergraduate degree at USM.
"The McNair scholarship gave me a competitive edge in applying to various graduate programs through the research I did during the program, the GRE (Graduate Record Examination) preparation, instruction on developing a proposal and writing a research paper," said Davis. "Being a McNair Scholar is an honor and accomplishment recognized by colleges and universities nationwide."
The Dr. Ronald E. McNair Post Baccalaureate Achievement Program (McNair Scholars Program) is named in honor of Dr. Ronald E. McNair, physicist and astronaut who perished on the Challenger space shuttle accident on January 28, 1986. The McNair Scholars Program is a federal TRIO program funded by the U.S. Department of Education. McNair participants are either first-generation college students with financial need, or members of a group that is traditionally underrepresented in graduate education and have demonstrated strong academic potential.
To learn more about the McNair Scholars Program at USM, call 601.266.6544 or visit: https://www.usm.edu/federal-trio-programs/mcnair-scholars-program-about-program