Professors Co-Edit Book Offering Perspectives on Race, Gender, Sexuality and War
Thu, 10/19/2017 - 10:23am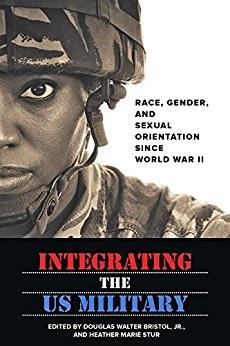 Two history professors at The University of Southern Mississippi gathered leading scholars of women and minorities in the military to investigate military integration. They sought to answer three questions: "Why and how did the military change the way it dealt with service personnel who were not white, heterosexual men between World War II and the present?"; "How did minorities and women adapt to being part of an institution that had once been closed to them?" and "How similar was the military experience of African Americans, Japanese Americans, Native Americans, women and LGB+ people?"
Integrating the US Military, edited by Dr. Douglas Bristol and Dr. Heather Stur, is the first sustained comparison of the military experience of African Americans, Japanese Americans, Native Americans, women and LGBT people since World War II. The recent controversy over President Donald Trump's ban on transgender troops shows that the issues the book addresses are still relevant.
"The comparative approach this anthology takes will shed light not only on the experiences of individual groups, but will also demonstrate how the challenges launched against the racial, gender and sexual status quo in the years after World War II transformed overarching ideas about power, citizenship and America's role in the world," Bristol explained. "That is why advances in civil rights since World War II cannot be understood fully without examining the military."
Bristol, an associate professor, is a Chapel Hill, N.C. native and came to the Department of History at Southern Miss in 2003. He is a fellow at Southern Miss' Dale Center for the Study of War & Society, which is an international resource for the study of the history of warfare and its influence on both soldiers and civilians.
Stur, also a Dale Center fellow, said, "Issues regarding military integration are part of the national conversation right now – the repeal of Don't Ask Don't Tell, the opening of combat specialties to women, the debate over whether trans people should be allowed to serve. I wanted to provide some historical context for how the military has handled the question of integration in previous time periods." Stur is a Highland, Ind. native and has been at Southern Miss since 2008.
In the chapter Stur contributed to the book, she examines women in the Vietnam War, a group whose voices have been marginalized in the mainstream narrative. Stur explores what the women had to say and what they thought about the war and their service.
"I am fortunate to work with talented colleagues in the Dale Center for the Study of War & Society at Southern Miss. My collaboration with Dr. Stur to create Integrating the U.S. Military is an example of the synergies that come from being part of a community of scholars," Bristol added.
For more information about the Southern Miss Department of History or the Dale Center for the Study of War & Society, visit www.usm.edu/history.