Southern Miss Graduate Receives Prestigious Pi Beta Phi Award
Fri, 08/04/2017 - 14:09pm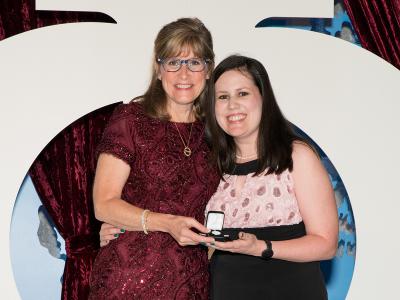 Tabitha Epperson, right, receives her award from Pi Beta Phi President Paula Shepherd.
University of Southern Mississippi graduate Tabitha Epperson, of Pass Christian, Miss., has been honored as the 2016 recipient of Pi Beta Phi® Fraternity for Women's prestigious Young Alumna Achievement Award.
The award is presented annually to an alumna who graduated college within the last 15 years and has demonstrated that Pi Phi is a lifelong commitment through her involvement with a Pi Beta Phi alumnae club, Alumnae Advisory Committee, Chapter House Corporation or other local community leadership.
"Pi Beta Phi is privileged to be able to recognize members who do such remarkable work for the betterment of society," said Pi Beta Phi President Paula Shepherd. "We applaud Tabitha for her commitment to make a difference in her local community and in the lives of her Pi Phi sisters."
Epperson earned two Bachelor of Arts degrees from USM (2006) in history and political science. She returned to earn a Master's Degree in anthropology in 2012. She has been an active Pi Beta Phi alumna since graduating from USM and moving to South Carolina.
A member of the Honors College at USM, Epperson was also a Luckyday Foundation Citizenship Scholar. Epperson noted that being singled out for such a significant honor by Pi Beta Phi left her humbled and awed.
"I was honored because this is an international award, and it was truly remarkable to have been the only award recipient out of so many amazing Pi Phis all over the world," she said. "Also, it was extra special because it was Pi Phi's 150th year, so this award was presented at the end of a huge birthday celebration at Pi Beta Phi's convention."
Leaders of the Columbia, South Carolina, Alumnae Club of Pi Beta Phi quickly recognized Epperson's leadership skills, and she was elected Philanthropy Chair. In that role, she managed multiple Pi Beta Phi Champions are Readers® reading enrichment programs at local elementary schools. She helped the club secure several grants from the Fraternity that provided 500 brand-new children's books, free of charge, for the club to donate to local schools.
Additionally, Epperson served as Co-Chair for a Pi Beta Phi Fraternity Day of Service Signature Event that provided 20,000 brand-new children's books, free of charge, to Columbia area schools, after-school programs and community programs serving students from low-income families. At the event, Pi Phis helped carry, sort and distribute books and facilitated children's activities. For many students at the event, the books were the first new books they ever owned and the first step to creating a lifelong love of reading.
When she is not volunteering, Epperson is working toward a doctorate in sociology at the University of South Carolina. She teaches Sociology 101 at the University and is an advisor to USC's South Carolina Alpha Chapter of Pi Beta Phi. Tabitha is also a trained doula and has helped laboring women welcome more than 30 babies into the world.
Founded in 1867 at Monmouth College in Illinois, Pi Beta Phi has installed 204 collegiate chapters and nearly 300 alumnae clubs worldwide. Pi Beta Phi promotes friendship, develops women of intellect and integrity, cultivates leadership potential and enriches the lives of members and their communities. The Fraternity believes in the power of reading and through its philanthropy, Read > Lead > Achieve®, promotes a lifelong love of reading that can unlock true potential. For more information, visit www.pibetaphi.org or follow Pi Phi on Facebook, Twitter and Instagram.