Southern Miss Staff Professionals Win Judges Choice, Three Lantern Awards at Regional Public Relations Competition
Thu, 10/05/2017 - 10:04am | By: Arlicia Jordan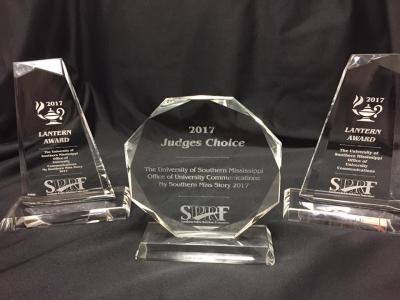 For the second consecutive year, The University of Southern Mississippi has captured one of the top three awards at the Southern Public Relations Federation (SPRF) Lantern Awards program.
The University's "My Southern Miss Story" campaign was selected for a "Judges Choice" award, one of eight overall awards collected by USM staff members from the Office of University Communications, the USM Foundation and the Department of Recreational Sports. The results included three Lantern Awards, representing the best work in each competition category. The "My Southern Miss Story" advertising campaign, which also won a Lantern Award in the "campaigns" category, helped raise brand awareness, support student recruitment and enhance the reputation of the University.
Judges reviewed hundreds of entries, honoring award recipients with either a Certificate of Merit, Award of Excellence or Lantern Award. The competition includes professional entries from universities, agencies, business and organizations across Alabama, the Florida panhandle, Louisiana and Mississippi. From Lantern Award winners, judges also selected a Best of Show Award and two Judges' Choice Awards. Award winners were recognized during the 2017 SPRF regional conference held in Tupelo, Miss., in late September.
"Last year, when our marketing communications team won 'Best of Show,' our Assistant Director for Marketing Communications Brittney Westbrook said that it was once in a lifetime to finish in the top three in competition with the best agencies in Mobile, New Orleans, Birmingham, Pensacola and more," said Jim Coll, chief communication officer and director of the Office of University Communications. "Then, under her leadership, we did it again in 2017. It truly is an amazing result.
"These awards represent independent and professional validation of the quality of public relations work being done at USM—not only in the Office of University Communications, but the USM Foundation and Department of Recreational Sports as well."
The Southern Public Relations Federation is a network of public relations professionals from Alabama, North Florida, Louisiana and Mississippi who share a common interest in the public relations profession.
Additional USM SPRF Awards include:
University Communications
Lantern Award for 2017 "My Southern Miss Story" video series
Award of Excellence for Bachelors of Science in ocean engineering and computer engineering campaign
Award of Excellence for 2017 "My Southern Miss Story" Instagram ads
USM Foundation
Lantern Award for "Your Gifts in Action" impact report
Award of Excellence for "Attitude of Gratitude"
Rec Sports
Award of Excellence for House of Payne Haunted House