Southern Miss Student Receives National Science Foundation Fellowship
Thu, 04/06/2017 - 02:13pm | By: Van Arnold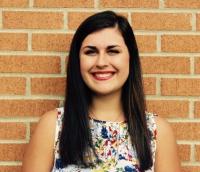 Susan Walley
Susan Walley, a senior polymer science major at The University of Southern Mississippi, and recent University graduate Kristen Van de Voorde have been awarded prestigious National Science Foundation Graduate Research Fellowships.
The fellowships cover three years of funding. Students receive a $34,000 stipend every year as well as a $12,000 cost of attendance allowance tenable at any university in the country. NSF Graduate Research Fellows are selected on the basis of their academic merit as well as their potential for broader impact on the greater scientific community and society as a whole.
Walley, a Richton, Miss., native, is the University's 17th currently enrolled student to earn an NSF fellowship in the past 10 years. This year the fellowship committee selected approximately 2,000 students from more than 13,000 applicants.
"I was very pleasantly surprised to hear that I had gotten this award," said Walley. "It was such a rewarding moment after working so hard during the application process. I am very thankful for the experience, and for all who helped me get here."
Walley, who has been actively involved in WISE (Women in Science and Engineering) at USM, is currently working in the lab of polymer science Professor Derek Patton. A member of the Honors College on track to graduate magna cum laude in May, Walley plans to pursue a doctorate in chemistry at the University of Florida.
Robyn Curtis, director, Nationally Competitive Awards at USM, notes that Walley's student profile fit perfectly with the fellowship's primary criteria of intellectual merit and broader impact.
"Her record of service and mentorship with WISE was striking and her record of peer-reviewed presentations and publications was stunning for an undergraduate," said Curtis. "Her achievements were are all the more remarkable because she came to USM from a high school with no advanced science courses. I was not at all surprised to see her name on the awardee list. It is a well-deserved honor."
Van de Voorde, also a polymer science major and magna cum laude graduate at USM, is currently enrolled at Case Western Reserve University pursuing a doctorate in macromolecular science and engineering. Her research primary utilizes multi-layer, three dimensional coextrusion to create fibers. These fibers are being explored to synergistically enhance the mechanical properties of hydrogels. They have also been surface modified to act as wound healing patches.
Curtis notes that the University's consistent run of NSF fellowship winners should not be underestimated.
"USM students and alumni continue to win NSF Graduate Research Fellowships in numbers that lead the state over the last decade," she said. "It is a great testament to the quality of our undergraduate research programs and faculty mentorship that our students receive NSF Fellowships at a rate far beyond the national award rate."
To see the complete list of NSF Graduate Research Fellowship awardees, visit: https://www.nsf.gov/news/news_summ.jsp?cntn_id=191361. For information about national scholarship and awards at Southern Miss, contact the Office of Nationally Competitive Awards at 601.266.4533 or visit: https://www.usm.edu/honors/office-nationally-competitive-awards.